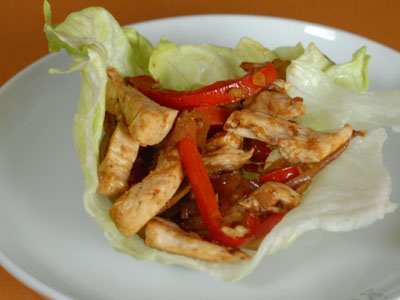 Well April is almost done and so is my fourth cookbook, Great Food Fast. I have nothing but praise for this cookbook. I loved the full-color photos of EVERY recipe. I love the organization (by season!) and I loved the food. I actually tried EIGHT recipes from this (yay, made it!) book.
Asparagus and Gruyere Tart (OH MY! awesome!)
Indian Spiced Chicken Burgers (meh)
Pan Fried Shrimp with Green Curry Peanut Sauce – sauce was great, but dish lacked somehow; might try this again though
and for the finale … Chicken Stirfry Lettuce Wraps.This is easily my favorite recipe we tried in Great Food Fast and it is the epitome of the cookbook as it is very fast and very very good food. I see us making this many times. We've already done a repeat on it since the first time we made it was the night Tabby ultimately ended up spending in the ER and that just isn't real conducive to food photography, even my semi-capable style. It is a super healthy, really filling recipe that you just love. I don't miss rice or anything like that with this and the lettuce is a nice cool off-set to the slightly spicy stirfry, but it's good all on its own too.
Chicken Stirfry Lettuce Wraps
1 1/2 pounds boneless, skinless chicken breasts, thinly sliced and cut into bite-sized chunks

Coarse salt and ground pepper

2 T olive oil

1 large onion, quartered and thinly sliced

1 large red bell pepper, ribs and seeds removed, thinly sliced

3 cloves garlic, minced

1 1/2 t grated peeled fresh ginger

1/4 to 1/2 t red-pepper flakes

3 T soy sauce

3 T rice vinegar

1 1/2 t cornstarch, mixed with 1 T water

12 to 16 Boston lettuce leaves, (about 2 heads)
Season chicken with salt and pepper. In a large nonstick skillet, heat 1 T oil over high heat. Add the chicken; cook, stirring constantly, until opaque throughout, 2 to 4 minutes. Transfer to a plate. Add remaining T of oil to pan, along with the onion and bell pepper. Cook, stirring constantly, until onion is tender and golden, about 4 minutes (reduce heat if browning too quickly).
Reduce heat to medium; add garlic, ginger, and red-pepper flakes; cook, stirring, until fragrant, 30 to 60 seconds. Stir in soy sauce, vinegar, and cornstarch mixture; remove from heat. Add chicken and any accumulated juices; toss to coat. Serve in lettuce cups.