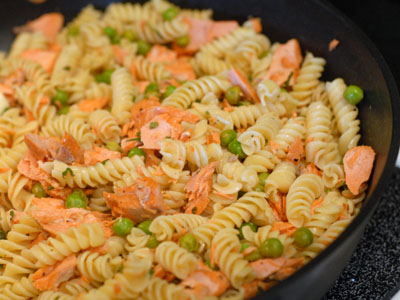 I frequently get a surprised reaction when I reveal that my kids like fish, but they do, like a LOT. We are met with squeals of delight when we mention fish is on the menu. I like this kind of weird! So I knew it was a pretty done deal when I selected this recipe from Great Food Fast to try out. Salmon is instantly popular and add pasta to it? Slam dunk. That's the right basketball metaphor isn't it? I'm more sure of football: TOUCH DOWN!
As an added bonus, we got to use the fresh mint from our garden and I am always a fan of that. Matt is constantly threatening to eradicate my precious mint before it takes over the neighborhood, but I say he's a spoil sport. But I figure I better use it while I can and it grows so fast I can harvest virtually all the mint I want and still have tons left over.
Pasta with Salmon, Peas and Mint
adapted from Great Food Fast
Ingredients
1 pound short pasta (rotini, farfalle, cavatappi, elbow macaroni?)
1.5 lbs salmon (skin removed)
juice and zest of 2 lemons
10 oz frozen peas, defrosted
2 T unsalted butter
1/4 cup chopped fresh mint plus more for serving
Cook pasta according to al dente. Reserve 1 C pasta water and return to pot. Meanwhile, season salmon with S&P and place in a large skillet. Add a 1/4 cup of water and the lemon juice and zest. Bring to a boil over medium high heat and steam for 10 minutes. Add peas and steam until they are tender, 2-3 more minutes.
Combine salmon, peas and cooking water with the pasta. Add butter, mint and season with S&P to taste. Stir gently breaking the salmon into large flakes. Add reserved pasta water for desired consistency. Serve topped with a little extra mint if you like.
This was a great recipe and just as tasty leftover as it was the evening we first made it. The kids devoured it and asked for seconds. I would like next time to add just a little cheese, perhaps Parmesan or Romano or maybe feta? just to see how it would be.
Pasta with Salmon, Peas and Mint