So after I decided that the original cookbook I'd selected for this month wouldn't work, I decided to move on to Jaime's Dinners, which I'd originally slated for next month. I started going through it and while I found some recipes that I want to try, the vast majority are heavier, BRITISH foods (err … duh) more suited for chilly winter months.
So I ended up giving up on it  and I've switched (AGAIN) to Great Food Fast, which is a compendium of recipes from my all-time-favorite food magazine, Everyday Food. I've already tackled two recipes from the book since making the decision and I am really glad I chose it. They are tasty, healthy, fast and easy. The book is divided up by seasons which I love because that's how I cook and everything I selected from this week was from the Spring section.
Asparagus Gruyere Tart
Ingredients
1 sheet puff pastry
flour for rolling surface
1 lb of fresh asparagus
5.5 oz grueyere cheese, grated
olive oil
salt and pepper
Heat oven to 400. Roll puff pastry into 10×16″ rectangle. Fold in 1/2 inch on each side and pierce surface with a fork. Transfer to baking sheet and bake 15 minutes or until lightly brown. Top crust with grueyere. Trim asparagus to width of crust and place on top in neat rows, alternating which side the tops point to. Brush lightly with olive oil and season with salt and pepper. Bake 10-15 minutes more until asparagus is tender. Cut into segments and serve immediately to general applause.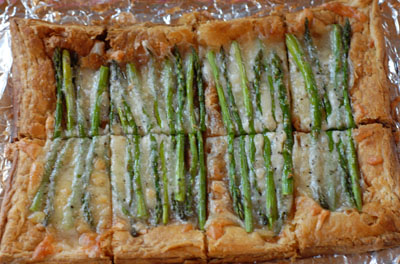 Since we are all asparagus fans, this was an immediate hit in our house. We have another sheet of puff pastry (two to a box) and some more asparagus and Tabby has already requested we make it again. Similar to the chalupas, this is a good jumping-off point for lots of other flavor combinations on top of puff pastry. I can see there being lots of possibilities here!