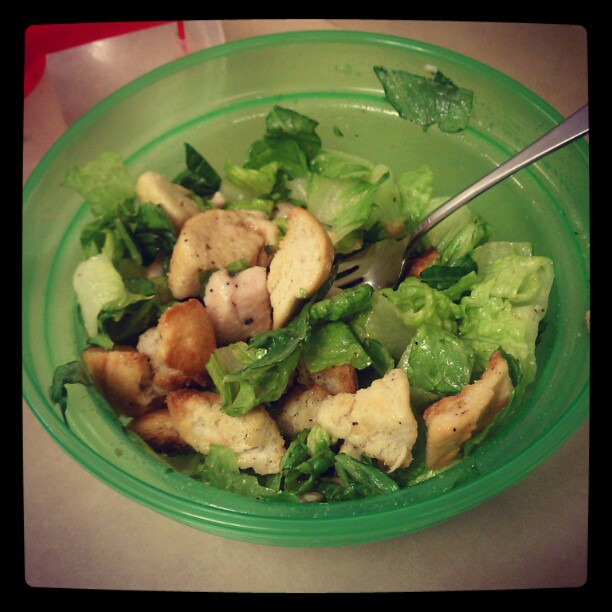 I debated even posting this recipe because we strayed so far from the original in Great Food Fast that it was really more of an inspiration than a recipe we followed. The original recipe called for making your own caesar dressing. I'm all for that, but we ended up making these for lunch and somehow homemade caesar is less appealing after hanging out in the breakroom fridge for a while, so I grabbed some stuff we had in the fridge and used that instead. I also try not to keep mayo (an ingredient in the dressing) in the house. It's an ethical thing seeing as I hate mayo. But in the end, this is a really tasty and darn quick meal and I wanted to share it because it's something that I love but never think about making. Maybe now you'll think to make it too.
Chicken Caesar Salad
4 oz Italian or French bread cut into 3/4 inch cubes (about 4 cups)
3 T olive oil
coarse salt and ground pepper
1 lb boneless skinless chicken breast, cut into bite-sized pieces
18 – 20 oz romaine hearts
caesar dressing (either from a bottle or scratch – I'll add that below)
Heat oven to 375. Place bread on a rimmed cookie sheet and drizzle with 2 T olive oil and season with S&P. Toss to coat. Bake, tossing now and then until golden, 12 to 15 minutes. Meanwhile, heat remaining tablespoon of oil over high heat in a skillet. Throw in your chicken and season with S&P as desired. Cook until a bit browned on the sides, stirring now and again with a spatula, about 3-4 minutes in all. Set aside.
Prep the romaine by slicing crosswise in 1-inch ribbons. Wash and dry (spin cycle). Toss with croutons, chicken and dressing. Enjoy!
If you want to make the dressing from scratch, Great Food Fast does it this way: put 1/4 C fresh lemon juice, 1/4 C reduced fat mayo, 1/4 C grated parm, 2 anchovy fillets and 1 small garlic clove in your blender and blend until smooth. Honestly, it sounds great, even with that evil mayo and I would love to try it next time.
This was also a great way to use up the extra bread left over from making the kids Berry French Toast this weekend. I already had the oven on from making the sugar cookies (they were the base of the fruit pizzas) and so I finished up the french toast and tossed in the croutons then stored them in an airtight container until we needed them. Just remembering to do little things like that makes putting together dinner (or lunch for the next day) so much easier!