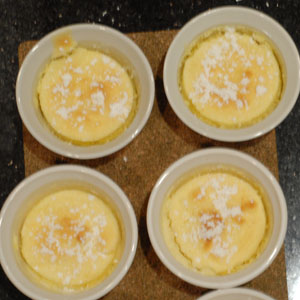 I think my give-a-darn must have been broken last night when I was trying to make dinner. My parents brought the kids back to our house and I made the easiest meal ever, spaghetti, for  dinner and Matt whipped up this dessert, Lemon Pudding Cakes (from Great Food Fast, in case you're in the dark). Spaghetti, being ridiculously easy to make, turned out great. And these turned out great as well, thanks to Matt being at the helm and not myself. I was unfortunately in charge of photographing them and that err … didn't go so well.
But rest assured, despite the crappy photo over there, these are amazingly tasty and worth your time to make. They are also light and fresh and not a bit heavy. I believe they come in around 150 calories apiece too, so no guilt!
Lemon Pudding Cakes
ingredients
2 tablespoons unsalted butter, melted
1/3 C all-purpose flour
1/2 t baking powder
1/4 t fine salt
3 large eggs, separated
3/4 C granulated sugar
1 t finely grated lemon zest
1/3 C lemon juice (from 2 lemons)
1 1/4 C whole milk
Confectioners' sugar, for serving
Heat the oven to 350. Put kettle on to heat. Butter eight 6-ounce ramekins or custard cups. Set in a shallow baking pan.
In a medium bowl, combine flour, baking powder, and salt. In a large bowl, whisk together egg yolks with 1/2 cup granulated sugar until pale and smooth. Whisk in butter, lemon zest and juice, milk, and flour mixture.
In a large bowl, using an electric mixer, beat egg whites with 1/4 cup granulated sugar until stiff peaks form, 5 minutes; fold into batter. With a ladle, divide batter among ramekins, keeping sides clean if you can! Pour enough hot water (from the kettle) into baking pan to come halfway up sides of ramekins. Bake until cakes are puffed and slightly golden on top, 20-25 minutes. Dust with confectioners' sugar and serve immediately.