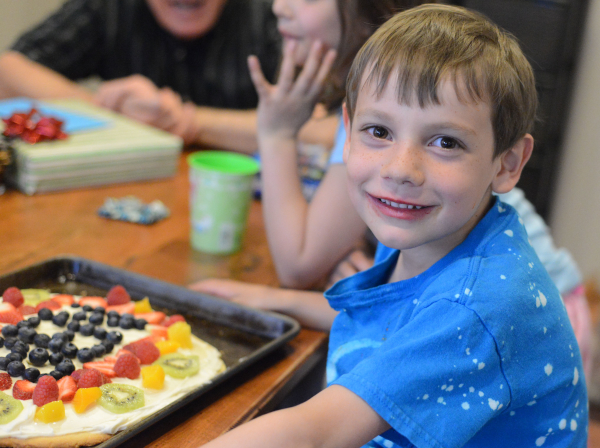 Our little guy turned 6 a week ago. All parents know the feeling of watching their big, capable kids and barely being able to connect them to the snuggly little babies they were once upon a time.
It's amazing and humbling to watch him grow from the Very Hungry Caterpillar who couldn't get enough milk into his big, almost-done-with-kindergarten self.
This has been a transformative year for Ben. I suppose they all are, but he has had by far the biggest challenges so far this year and it's been wonderful to watch him work to overcome them. Ben is a typical little boy with lots and lots of energy. He has had to work hard this year to tame that energy and direct it into his school work. It has been an uphill battle and I really appreciate the effort his teacher has put into helping him develop strategies to work through his boundless energy. It's made a huge difference.
Outside of school, we have fits and starts, but the overall arc is good. He listens better. He picks up well. He is learning to control his temper and his err… smart mouth. His natural bend is to be the class clown and he truly is very funny. I swear he makes us laugh each day. Sometimes it's accompanied by shaking our heads. He is very inquisitive and extremely intuitive about mechanical and mathematical things. If we can keep him busy, we can keep him happy.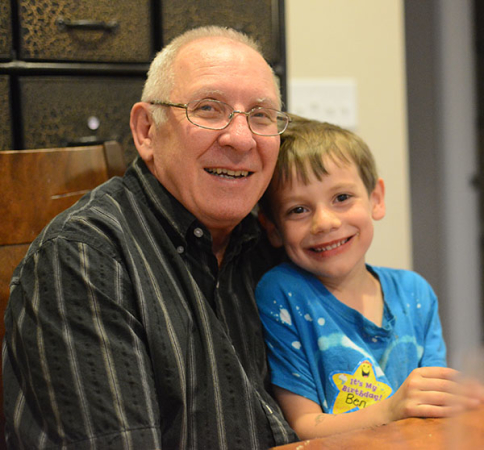 We had a small family party for him at home. His "big" party isn't for another week, but we asked him to pick what he wanted to do on the very special day and it was super simple – pizza rolls, fruit pizza and a movie at home.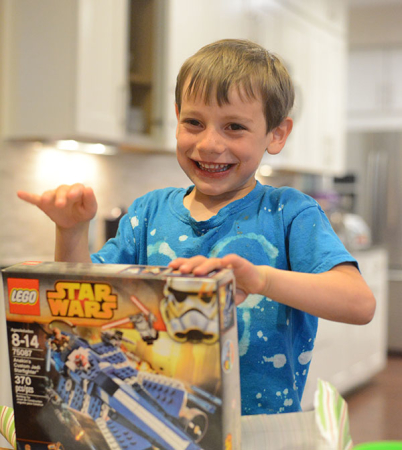 Papa and Gaga got him Legos.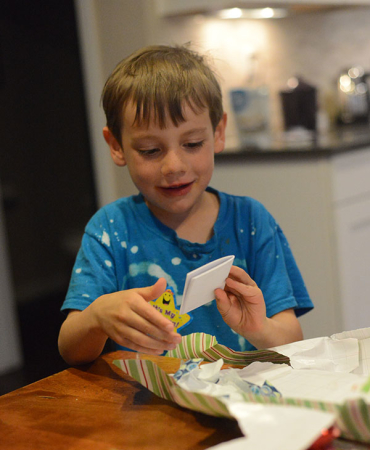 Tabby made him an adorable book entitled, "The 10 Things I Love Best About Ben." Our present to him will be a Russian Tortoise that we will pickup sometime this week. We were going away for a long weekend and so wanted to wait to get the tortoise until we could be home for a couple of weeks in a row. We do have a name picked out though, "Taco." Yep, I don't know either.
He got his wish for his night in, pizza rolls, movie and fruit pizza. I love that his requests are still so uncomplicated. For his party, we will be having a water gun fight in the back yard followed by some cake and ice cream. We're all looking forward to a good time.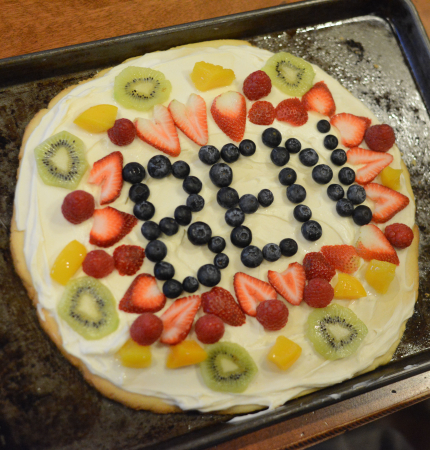 Happy birthday to my darling little guy. Here's to many many more years of Benji fun and snuggles.