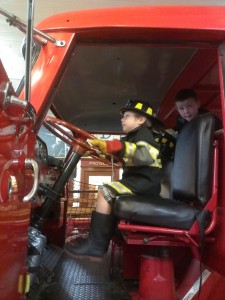 This was probably the most productive weekend we've had in a while. It started off with a bang – we hired my cousin and his girlfriend to work in our garden. They did an awesome job and our garden look faaaab. Friday I took a half-day so I could go to Tabby's field day. This is a big deal at her school and Matt and I had lunch with her on the lawn and then I hung out for the festivities. They had 16 different events and were playing dance music outside. The only bad part is that it was HOT! We've totally skipped over spring this year and went straight to summer.
After field day, I got to hang out with the kids and get ready for Bunco. My turn to host. I bought quiches from costco and then turned my attention to making sangria, a nice salad, and some salted caramel pie. Everything was a hit and we had a great evening. I opened up the patio and we enjoyed the beautiful Colorado summer night.
Saturday Tabby had her last soccer game of the season. Ben would have had his too, but he went to a friend's b'day party at the fireman's museum. I was his escort and he had a good time playing in the gear and driving the rig. Some cupcakes and hotdogs didn't hurt either. After the party, the kids went to my parents' house for the rest of the day.
Matt and I had some awesome mexican food at a new place and then we went to see Star Trek: Into Darkness. I am an unabashed Star Trek fan, but I loved this movie! I never even once checked my watch – the sign of a great movie for me! After the movie, we got down to business. We commissioned and inventoried the pop-up for the summer and did our grocery shopping and some house cleaning.
This morning we cleaned out the garage, got the photo booth stored and did some laundry. We picked up the kids and Tabby and I went to b'day party #2 while Ben and Matt got Ben a haircut. During the party, Tabby started feeling crummy with an upset tummy. Luckily my friend had a tums with her and that seemed to do the trick!
Around 3:30 after the party was over I finally got my run in … just a few miles … before I showered for the day and we headed to The Kitchen for Matt's very belated birthday dinner. A yummy time was had by all.