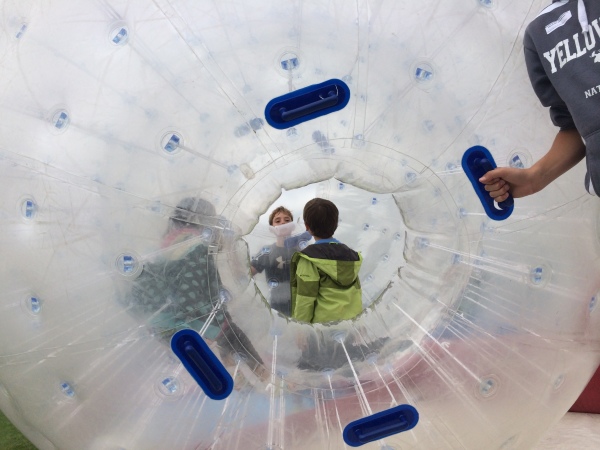 It was a fairly relaxed weekend by our standards. The kids had their fun-run and carnival on Friday (here they are in a giant hamster ball). Ben apparently ran at warp speed and was at the front of the kindergarten pack.
I had to work later than normal (for Friday) since we had an interview team going in first thing on Monday morning. But I was able to join Matt and the kids for the second hour of the carnival. The first year we stayed all night, but this year (as with last year) it was really crowded and we didn't stay long. Our school has grown and it's a bit sad, but it's still a wonderful school and our kids are luck to be there.
After the carnival we met up at our friends' house for pizza and game night with a few other couples. The kids ran off to play and we were left in relative peace to chill and drink wine and be goofy. They're all great people and we loved hanging with everyone.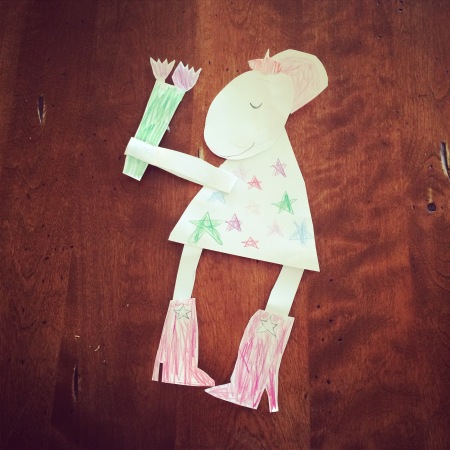 This was Tabby's adorable Saturday morning project for her beloved teacher.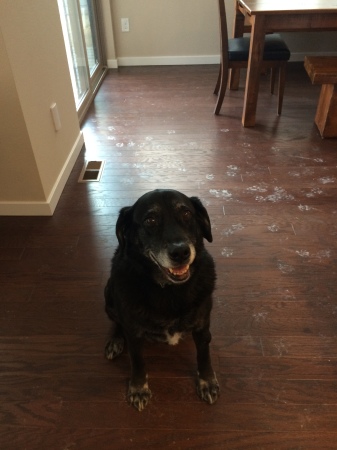 Saturday we more or less promised the kids a stay-at-home day, but there were a few things we had to accomplish. We had a great workout in the morning and even Ben came up to join us and "run" on the treadmill. This charming fellow got out at some point along the line and tracked in the motherlode of muddy pawprints. I cannot wait for grass!!!!
Anyhow, we had to go out to grab a bit of food and a card but then we cranked the music while we worked on organizing the garage. We got a few things done, but barely scratched the surface before we had to leave and drop the kids at my dad's house. He had a date planned with them including a movie.
While they were there, we went to Best Buy to pick up a replacement TV (our original one was defective) and then to West Elm to pick up new bar stools (more on that later). The evening's activity was a wedding shower for a family friend and his lovely bride. It was a nice gathering.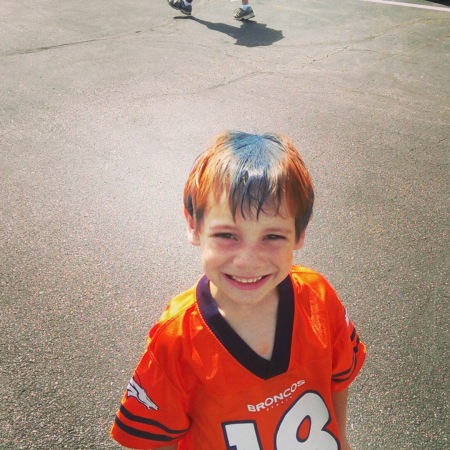 Sunday we made it our priority to get stuff done before the kids came home. A little grocery shopping, a run to Good Will and that sort of thing. Then Matt and Ben met up with my uncle and aunt in the afternoon so they could all go to the Broncos game – Ben's first. The previous weekend we'd watched them play and Ben was rather taken. He talked all week about the game, asking if the Broncos were playing that night and could we watch football?
So when my uncle had tickets, I knew who needed to go. We bought him his own jersey and after his disappointment that his carnival hair had worn off, we stopped at the Halloween store to get some blue and orange hair paint. That is one happy boy. He loved the game and when I asked him what his favorite part was, he didn't cite the ice cream sundae he got in the 4th quarter, he immediately said, "Watching them play!!" I hope my papa (the original Broncos fan) is smiling down from above on his great grandson.
Anyhow, he apparently did very well at the game, happily watching all the action. Meanwhile, Tabby and I hung at my Dad's house. Tabby played nicely and I did some work and we helped my dad cook. That evening he hosted all of us plus my sister and aunt and uncle for a very lovely dinner.
This weekend of course also marked the anniversary of my mom's passing and the worst couple of days of my life. I definitely felt the sting more acutely a couple of times, but overall, I was OK. I had wonderful thoughts and messages from many loved ones and of course, that helps immensely. She is still held dear by many.