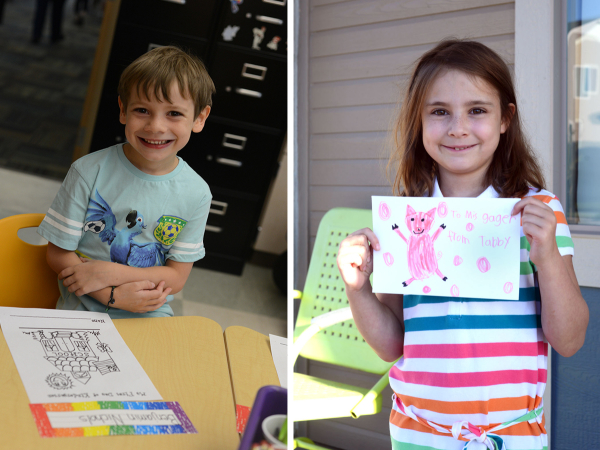 It was an exceptionally CRAZY first week of school.
All the things happened, practically at the same time.
The kids started school – but not even on the same day – on two different days, which led to me going to work late two days and then taking off early to pick them up two days.
Matt got sick – like actually take-a-vacation-day sick (and the other reason I was doing drop off and pickup).
I got a completely out-of-the-blue, totally-last-minute project for work that I handled while watching an entire season of Downton Abbey.
The photo shoot I had scheduled went from an estimated 3 hours long to an estimated 7 hours long to an actual 6 hours long.
I had to spend two hours on Wednesday evening at the kids' music orientation.
Family came in from out of town.
We almost didn't get a proposal in.
I sat on a panel (which sadly did not involve any sitting). I did not get my pedicure. I had bunco. I avoided Matt's icky bug and so did the kids.
SO ANYHOW, SCHOOL: The kids are super happy with their new teachers. They are off to a great start for the first year. We haven't even screwed up too much/many paperwork assignments and they have more or less been on time.
Ben is most excited about the cafeteria, specials (art/music/gym) and recess! Tabby is most excited that her BFF is in her class. Also, they have a field trip soon!
The kids have been crazy tired in the afternoons. I expected Ben to be a bit off, but Tabby has been just as tired if no more so! And me too. Lots of adjustments, lots of fun. The kids start music lessons tomorrow to add to the crazy. And we have more out-of-town guests for the next couple of weeks and a couple of weekend trips.
Life is good.
A