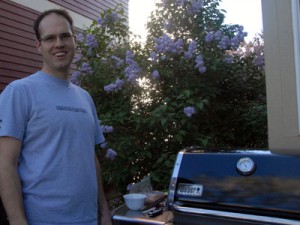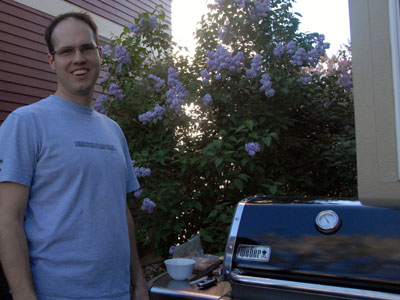 Well things got kinda crazy last week with the hospital thing and all. But the week wound down nicely into another busy weekend. On Thursday our resident grill master's new grill was delivered. And it was pretty. And he was happy. Since we had a bbq planned for Saturday, we thought we best test it out. And how better to do that than cook a couple of recipes from Great Food Fast. So we did.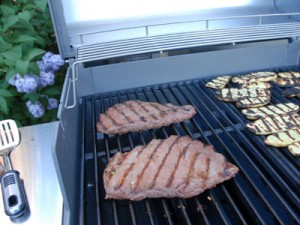 Flank Steak with Lime Marinade
1/3 C fresh lime juice (about 4 limes)
2 T soy sauce
2 scallions thinly sliced
2 T minced peeled ginger
1/2 t red pepper flakes
1.5 lbs flank steak
vegetable oil for grates
coarse salt and pepper
In a resealable plastic bag, combine the lime juice, soy sauce, scallions, ginger and red pepper. Add the steak and seal the bag. Marinate in the refrigerator, turning occasionally for 30 minutes.
Heat the grill to high. Lightly oil the grates. Remove the steak fro the marinade, letting excess drip off. Season with S&P. Place on the grill and cover. Cook turning once until the meat has reached desired doneness, 6-8 minutes for medium rare. Let the steak rest for 10 minutes before slicing thin.
Grilled Sweet Potatoes with Scallions
3 sweet potatoes, peeled and cut lengthwise into 1/2 inch thick slices
3 T olive oil
1 t dried thyme
1/4 t cayenne pepper
coarse salt and ground pepper
2 T butter (optional)
2 scallions thinly sliced
Heat grill to medium. Toss the sweet potatoes in a large bowl with the olive oil, thyme, and cayenne pepper. Season with S&P.
Grill the potatoes, turning frequently until tender when pierced with the tip of a paring knife, 20-30 minutes.
Return the grilled potatoes to the bowl and add the butter. Break potatoes into large pieces with the side of a spoon. Toss in the scallions and serve.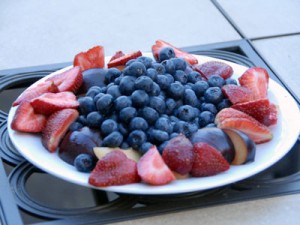 These two meat and potatoes dishes were incredibly easy, very very tasty, quite healthy and a huge hit with everyone. We added a bit of fruit and dinner was served.