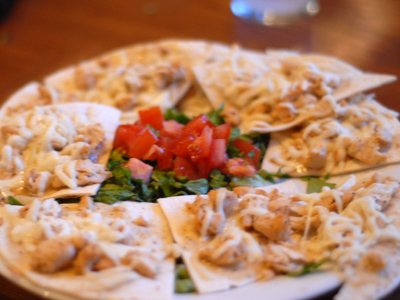 We had such a nice weekend. It is rare that our weekends aren't jam-packed with crap we must get done, but this one just had a handful of little events planned with longer stretches of nothingness going on in between. Friday I took the kids to the Zoo with my mom. It was a beautiful day and we had a wonderful time. Afterward, we went downtown and had lunch at Euclid Hall with my sister.
Saturday morning I got up and went running with my pal J … we pounded out 9 miles on Clear Creek and got good and caught up – we hadn't seen each other in a long while. Matt was supposed to have come along as well, but unfortunately Ben woke up in the wee smalls throwing up everywhere. I hate it for him – he just got over a cold only to have this icky tummy bug hit him. He seemed mostly recovered yesterday, but had it on the other end all day today and was generally a bit lethargic.
Today was even more low key. We went to a birthday party in the morning, hit the grocery store on the way home, had naps and worked around the house a bit. The start of Dayligh Savings is kind of messing with our heads and when we suddenly looked at the clock and it was almost 6:30 we knew why our stomachs were grumbling.
We whipped out the ingredients for Iowa Girl Eats' Chicken Caesar Chalupas (found via Pinterest) and had them ready in a flash. We let the Sunday Dinner be a bit more low key and ate at the coffee table while we watched old episodes of Scooby Doo. Everyone enjoyed them, except Ben who is confined to BRAT until he recovers some more. They were very tasty and a good format for many meals, very similar to the tortilla pizzas we make routinely. We used ingredients on the healthier side of things (low carb tortillas, 2% cheese, lite salad dressing) to keep them on the lighter side.
Chicken Caesar Chalupas
tortillas
chicken breasts, chopped into bite-sized pieces
lemon pepper + salt
cooking spray
Caesar salad dressing
shredded mozzarella
romaine lettuce, chopped
tomatoes chopped
Directions
Heat oven to 400. Spray baking sheet with cooking spray. Spray skillet with cooking spray and heat on medium high. Season both sides of chicken with lemon pepper and salt. Brown chicken in skillet until done. Cut tortillas into wedges (scissors work great!) and place on cooking sheet. Spray tops with cooking spray and bake for a couple of minutes until toasty. Top tortillas with a bit of dressing, chopped chicken and mozzarella. Return to oven and bake a couple more minutes to melt cheese. Serve with romaine and tomatoes for scooping.
Check out all the other great Pinteractive Projects on Nannette's site!