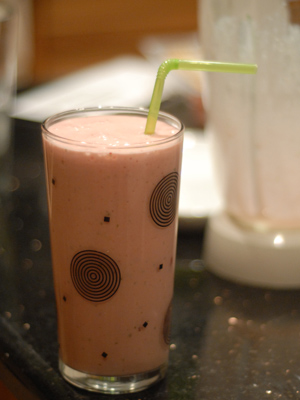 Well February has just about come and gone, and with it my plans to review eight recipes from The Biggest Loser Family Cookbook. I didn't quite make all of them this go-around, but I gave it a good shot! Hopefully we'll do a bit better next go around. The good news is that I did enjoy most of the recipes we made and I would like to try the few that we missed and maybe some more.
Grilled Chicken Parmesan – very good!
Szechuan Beef and Broccoli – very good!
BBQ Bacon Meatloaf – didn't get to this one, but it's staying on my list
Edamummus (dip made from edamame) – the ingredients are in my posession, but I ran out of time!
Tuna/Hummus English Muffins – never made it, but I hope to soon
Strawberry-Limeade Smoothie – AWESOME! see below
Broccoli and Cheddar Mini Frittatas – pretty good
Buffalo Chicken-Blue Cheese Meatloaf – very good!
Next month, I'm going through Moosewood Restaurant's Simple Suppers and I'm super excited since I love Moosewood Cookbooks and I'm pretty confident this one will be a big big winner. I'll have a post about that early next week.
Strawberry Limeade Smoothie
1 C milk
6 oz key lime yogurt
1 C frozen strawberries
zest and juice of one lime
sweetener to taste
Directions
This is very easy to make as it's a smoothie … you put everything in the blender and hit it hard. Those strawberries are a bear to get all chopped up nice, especially if your blender is as old as ours is. Add some sweetener if you need it … we didn't think it needed it. Very refreshing and just a little bit different. One of these split nicely between two of us and made a very good "healthy" dessert or maybe breakfast?
Hope you enjoy!