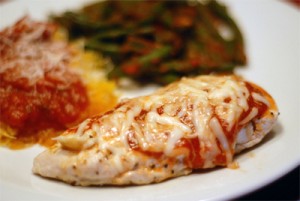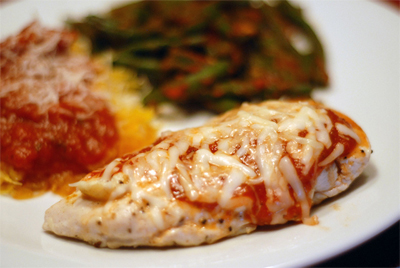 Matt is a Chicken Parmesan connoisseur. It is his litmus test for any Italian restaurant. So I was a bit nervous to make this no-breading chicken parmesan from Biggest Loser. Though we all agreed there is a special place in our hearts for the yummy breaded variety of chicken parm, this was an excellent option and certainly one we can have a bit more frequently since it is easy and healthy!
I opted to serve mine over a bed of roasted spaghetti squash, the kids had the usual spaghetti, and Matt did a mixture of the two. On the side, we served steamed green beans topped with marinara – it's a combo I hadn't had before, but it was very tasty and of course easy. One of these days, I would like to work on perfecting a marinara sauce recipe, possibly to can in the summer when tomatoes are in season. But not today – today it was Classico bought in bulk from Costco. At least I don't have any Italian ancestors rolling over in their graves. Just the German ones who can't believe I hate sauerkraut and don't drink beer.
Grilled Chicken Parmesan (serves 4-6)
adapted from The Biggest Loser Family Cookbook
Ingredients
1 lb chicken breasts
1 cup marinara sauce
1 cup 2% mozzarella cheese, shredded
2 T grated Parmesan
olive oil (in a mister if you've got it)
salt and pepper
Heat oven to 375. Heat grill pan, George Foreman, actual outdoor grill or a frying pan. Mist or rub chicken lightly with olive oil and season with salt and pepper. Grill until no longer pink inside and juices run clear (3-5 min per side or about 4 min on the Foreman). Place chicken in a shallow baking dish and top with marinara, mozzarella cheese and Parmesan. Bake in oven 4 minutes or so or until the cheese has melted.
Super simple weeknight meal … and everyone liked it!