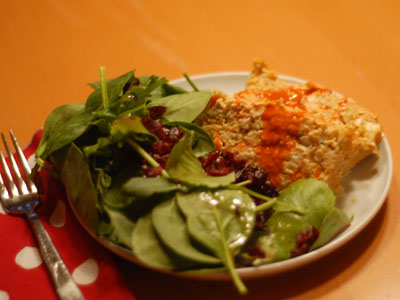 So the first time I made this recipe, I didn't get to eat it. About 5 minutes into its sojourn in the oven, our power went out. And stayed out for 3 hours. I could have just pulled it out and stuck it back in the fridge maybe, except that I was so distracted by the power outage that I didn't think of it until after we'd abandoned ship and gone to dinner and come home again. Doh! Luckily it wasn't too hard to make so I made it again.
This was probably the recipe I was most excited to try from the Biggest Loser Family Cookbook: Buffalo Chicken and Blue Cheese Meatloaf. Matt is a huge fan of buffalo chicken wings and while I don't like the wings, I do like the sauce and we've made many yummy variations using chicken and buffalo sauce, usually with blue cheese including salad and pizza. We hadn't tried meatloaf though and I'm SO glad we did. It did not disappoint.
Ingredients
1 lb ground lean chicken or turkey
2/3 C old fashioned oats
1/2 C milk
2-3 T hot sauce (I love Frank's buffalo sauce!)
1/4 C finely chopped carrots
1/2 C finely chopped celery
1/4 C finely chopped onion
2 egg whites lightly beaten
1/2 C blue cheese crumbles
Directions
Firstly, I will say that whenever I need to chop a decent quantity of vegetables finely, I usually grab the food processor and let it do the job. Sure I CAN chop finely, but this makes this so much easier. I just threw in the veggies, processed them and then pulled out a cup to put in the meatloaf. So the whole prep time was like 3 minutes – 5 if I include cleaning the food processor.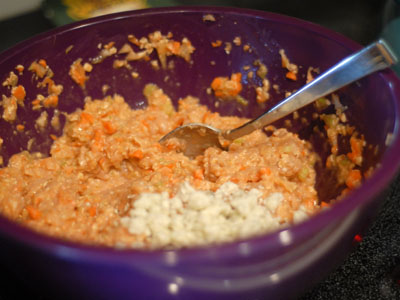 Anyhow, now about making the meatloaf. Heat your oven to 350 and lighly oil a loaf pan. Place the oats and milk in a bowl and stir to mix. Leave them soaking for a few minutes or until they begin to soften. This would be a good time to chop your veggies or measure other ingredients. Next stir in the hot sauce and mix well. After that add the chicken, vegetables, egg whites and a bit of salt if you like. Mix well! Lightly fold in the blue cheese.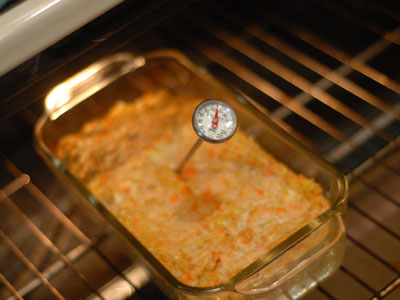 Spread the mixture in your loaf pan and bake for 35-40 minutes or until chicken is cooked. Mine seemed to take upwards of 50 minutes before the internal temp got to 165. Slice and serve!
As I said, this recipe was really good. It had all the flavors of buffalo chicken but felt both healthier and more substantial. We served it with extra sauce and a side salad. This would also be very good to make extra and freeze. Hope you make and enjoy!