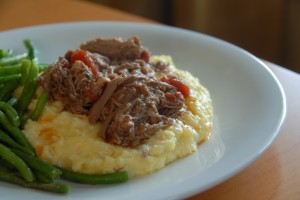 So one of my favorite food blogs, Dinner a Love Story posted a recipe for Pork Ragu sometime back late this winter. The minute I saw it I marked it in Google Reader and vowed to make it as soon as possible. The recipe is ridiculously simple as far as prep goes and the only time consuming thing about it is that it cooks for 4-5 hours … but all you have to do is turn it once in a while. It's the perfect thing to make on a Sunday afternoon while the kids are napping and you're doing laundry and getting read for the week and darn if it isn't super tasty. I will say that I have rarely if ever cooked pork before this (except bacon) because I don't like it much, but this blew me away.
We have always served it with noodles (no yolk – healthier and just as tasty!) and everyone loves it that way. But after a meal I had a couple of weeks ago at Black Cat in Boulder (oh what a meal!) where I was served some tasty tasty pork on top of polenta/grits, I knew that this pork ragu would go AWESOME on some creamy polenta (GRITS) …. and it does. They are just the right offset to the richness of the pork and so so tasty together.
Ingredients
for the pork ragu
3.5-4.5 lb lean boneless pork shoulder
salt and pepper
pat of butter
olive oil (2 T or so)
1 large can diced tomatoes
1 cup wine
1 tsp hot sauce for smokiness
handful of fennel seeds
a few sprigs each fresh thyme and oregano (or a tsp or 2 each dried)
parmesan for serving
for the grits/polenta
1 C stone ground grits/polenta
4 C milk
1 T butter
salt and pepper
Directions
Heat your oven to 325. Salt and pepper the heck out of the pork. Heat your olive oil and butter in a dutch oven and brown the pork on all sides … about 2 minutes per side. Add the tomatoes, wine, herbs, spices and hot sauce and bring to a boil. Then transfer to the oven and braise for 3-4 hours. If the liquid does not come 1/3 of the way up the roast, add a bit more (water or wine) to the mix to keep it going. The meat is done when it's falling apart. Remove from the oven and shred with a couple of forks.
When the roast is almost done, make the polenta. Heat the milk to a low boil and whisk in the grits/polenta. Lower the heat slightly and stir frequently to make sure it doesn't burn. Continue cooking until desired consistency, about 10 minutes. Season with salt and butter. Serve pork over top of a bed of polenta and top with parmesan if desired.  Dilly green beans were excellent with this! Make it soon before it gets too darn hot to turn the oven on.