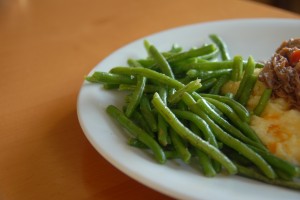 I think of my paternal grandparents when I make this. Even though it's not something they actually served, the combination of dill and green beans is very much THEM. My dad's parents had a huge garden with loads of vegetables and my grandma was an amazing cook in the southern tradition. My grandpa proudly tended his garden and loved the smell of dill. My maternal grandma still loves to talk about him bringing her a bouquet of dill. A truly lovely thought.
The kids … mine and our good friends' are crazy about this recipe. They scarf down the dilly green beans right along side mac 'n' cheese and hot dogs and that's pretty high praise. Fresh dill is lovely, but dried works well too.
Ingredients
green beans
butter
dill (fresh or dried)
salt & pepper
Directions
Cook your green beans until done. I like to steam them in skillet with just a little water if fresh, or nuke them if they're frozen, of course. While still hot, add the butter and mix it in so it melts. You do not need much butter. A tablespoon gives an entire pound of green beans a very nice flavor. Then season with dill and salt and pepper.