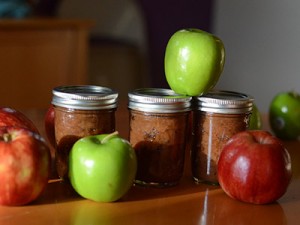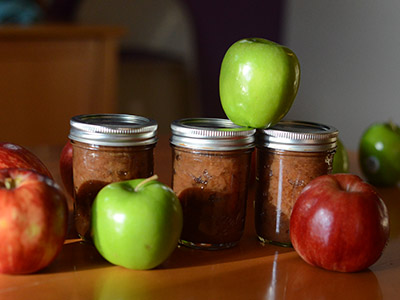 It's FALL! In addition to the fall colors and cool running weather, we have of course been chowing down on our share of "fall" foods. Pumpkin pasta, butternut squash, pumpkin pancakes, pumpkin oatmeal, pork ragu, tea and plenty of apples. With soups, in salads, for snacks. And on Sunday, we came home from Sunflower Market with an entire tote bag full  of apples because both Jonathan and Granny Smith apples were on sale! 49c/lb! We paid under $6 for a whole tote bag FULL of apples.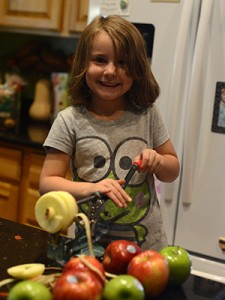 When we got home, we pulled out the apple peeler and corer and dispatched a whole bunch of them and stuck them in the crockpot.
We've read lots of recipes that use sugar (up to 4 cups!!) or applejuice (why?) or salt (eh??) but all we use is apples and a little seasoning (cinnamon, cloves).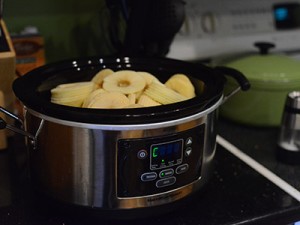 Then we turn the crockpot on high for a few hours and once they get going, we stir them to break them down a bit and then keep it on low as long as it takes to get what we want.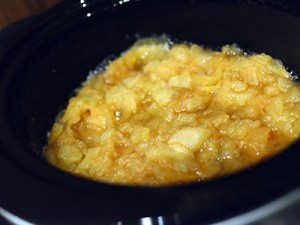 First you get to this stage (just shortly after you stir them up) where you have stewed apples. They are a great dessert for the kids. A little while longer and you have applesauce.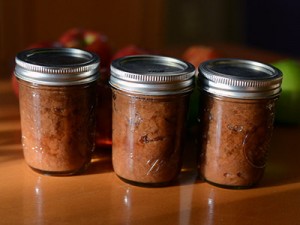 Lastly, after many many hours, things get caramelized and really break down. Then you have applebutter, perfect for spreading on toast and bagels or licking off the spoon. We packed ours into 4 half pint jars. Two for the freezer, one for right now and one is headed off to a friend. Another batch is cooking away and we're heading back to Sunflower for more apples.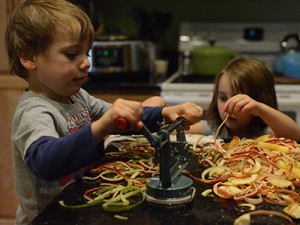 It's a leeetle messy, but totally worthwhile.