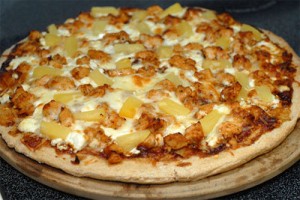 The folks at my house are big pizza fans (I know it's rare to find an American who isn't). We're completely happy with the garden variety mushroom and pepperoni variety (we frequently order it from down the block), but we also like something a bit different. We've put lots of different things on pizzas including buffalo chicken, shrimp scampi and various "Mexican" combinations. I don't think we've had a loser yet. Surely this wasn't it! This pizza, adapted from a Devin Alexander recipe I saw in the Biggest Loser Family cookbook, combines slightly disparate but always yummy ingredients into something really tasty and unexpected. It was a hit with the whole family. Matt and I ate it in its entirety.Tabby (who normally loves pineapple) ate all of the chicken and handed Ben her pineapple.  Ben picked off and ate all pineapple, including Tabby's and then licked off all the cheese. #facepalm
Hope you enjoy it as much as we did!
Ingredients
1 Jim Lahey Pizza crust (half a recipe)
1/2 cup BBQ sauce
1 small tin pineapple tidbits, drained
1/2 lb boneless skinless chicken breast
4 oz goat cheese
1 C 2% mozzarella, shredded
cilantro (optional), chopped
salt & pepper
cooking spray
Directions
Heat oven to 500. Cut chicken into small bite sized pieces and cook in a fry-pan sprayed with cooking spray or a tsp of olive oil until browned. Season with S&P and toss with about a tablespoon of BBQ sauce. Roll out your pizza crust on to a pizza stone or a cookie sheet. Spread BBQ sauce to cover (I go right to the edges) and then top with goat cheese, crumbled, mozzarella, pineapple tidbits, chicken and cilantro.
Cook for about 13 minutes or until crust is just getting crispy and cheeses are melted. I always start checking on this pizza crust at around the 10 minute mark because depending on your oven 10 may do it.
Nutritional Info (1 of 8 slices): 271 calories; 38g carbs; 7g fat; 18g protein; 3g fiber.