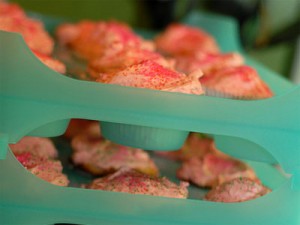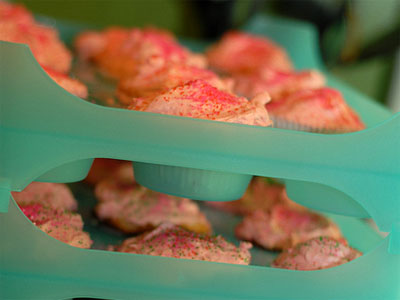 I think it's an established fact that I "read" too many blogs. There are 125 subscriptions in my Google Reader. Yea, I know it's a bit weird. But read is in quotes, of course, since I don't actually read them. I skim headlines. I quickly tag what I want to save for later or read something that is momentarily amusing but of no real long-term value. I am also merciless about tossing a blogs that no longer hold my interest. It probably shouldn't surprise you that I have a tag for recipes. Then usually when I'm making a menu up for the week I like to run back through the recipes I've marked and see what looks tasty.
As I was in the midst of this process on Sunday, I saw the Strawberry Milk Cake. I have absolutely NO recollection of marking it, but there it was in all its pink glory and it smacked me in the face with the realization that "Oh sheesh! I need to make a treat for Tabby to take to school for her birthday!!" Because, of course, I'd completely forgotten about that small fact. And had I not realized it in the midst of menu and shopping list making then we would have been reduced to making the Funfetti. For shame.
Seeing as I don't want Tabby's teachers to have to deal with cake cutting, etc. we made the cake into cupcakes. Recipe is as follows:
Strawberry Scalded Milk Cake
(adapted from Mrs. Joe Montgomery's recipe card via The Kitchn)
2 eggs
1 3/4 cups sugar
2 1/2 cups flour
2 teaspoons baking powder
1/2 teaspoon salt
1 teaspoon vanilla
1 cup scalded strawberry milk
1/4 cup butter
Heat oven to 350. Line about 18 muffin tins with liners. Beat the eggs, vanilla and sugar until fully combined (I used the stand mixer). In a separate bowl, sift together the flour, baking powder and salt, set aside.  In a small sauce pan, heat milk until almost boiling (look for a bit of steam and some bubbles around the edges), add butter and turn off heat then stir until butter is fully melted. Alternate additions of milk and flour to make a nicely consistent batter. Don't overmix!!
Cupcakes take 20-25 minutes to bake and are better on the slightly less cooked side from our findings.
Whipped Cream Frosting
1 package cream cheese, room temperature
1/3 cup sugar
1 teaspoon vanilla extract
2 cups heavy cream
food coloring as desired
Use your stand mixer again and beat the cream cheese, sugar, vanilla and almond extract until smooth. With the mixer on medium-high speed, slowly pour in the heavy cream. Try not to make a big freaking mess. Keep whipping, adding more speed if you need to until you get the stiff peaks about 2 minutes. Add food coloring if you wish.
This frosting goes on super easy but it is very susceptible to melting so make sure those cupcakes are cool!
I give this recipe HIGH marks. It was really easy to execute and produced excellent results. The frosting in particular is a triumph. I am a huge fan of cream cheese frosting and this was cream cheesy AND light and fluffy and super super tasty. I anticipate making it quite a bit in the future.