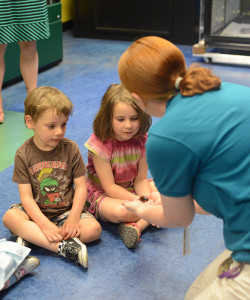 It's been nice having some more typical weekends … weekends where you work and play and even spend quite a bit of time at home. Yes, quite nice indeed. Friday the kids had their last swim lesson, an hour-long makeup. After that, we went to dinner and then spent a quite night at home.
Saturday was soccer, followed by grocery shopping and some blissful naps. Then the family came over for some grilled out dinner – the weather has been awesome!
Today was ZOO day. The kids were invited to a b'day party for some family friends. The trick was getting there. Unbeknownst to us (and our hosts!) the zoo had scheduled Dia de los Ninos and there were about a million Ninos and their families at the zoo. Parking was impossible – we parked about 6 blocks away and walked – and the lines were NUTS. Fortunately since we were with the bday party, we didn't have to endure the lines at least. But about 4 families gave up altogether and it was a bummer.
But for our troubles, we got a behind the scenes look at some cool animals that the zoo exhibits on visits to schools and other field trips. Salamanders, parrots, a giant rabbit, cockroaches (seen with the kids above) and a hedgehog. He was huge and made us feel much better about Hedgie's size.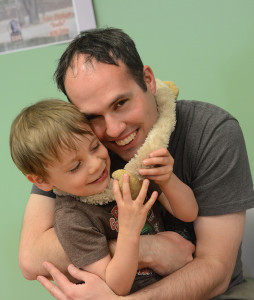 The zoo put on a nice do and I'd definitely think about having a bday party there ourselves – but not on Dia de los Ninos. After the bday party stuff, we rode the carousel and checked out some elephants and by that time it was after 4 and we headed out to get some dinner with friends.
I'm always astonished at how quickly the weekends go by.