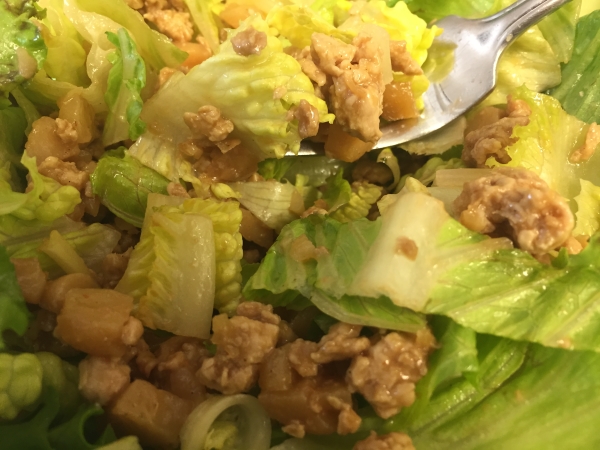 Sorry this isn't the best photo. I will try to replace it later with something more glamorous. But as a big part of this blog is to catalog the recipes that the family has deemed favorites, I want to get this UP.
To be perfectly honest, only the adult members of the family are gaga over this recipe, but both kids like it well enough. Tabby prefers to eat the chicken and dressing separate from the salad and add ranch or ceasar dressing (her faves) and Ben mostly just likes the chicken, but I think as they get a little older, they'll come to love it like we do.
The original recipe comes from Skinny Taste and we make very few tweaks.
Ingredients:
SALAD DRESSING
3 tablespoons rice vinegar
1 1/2 tablespoons grapeseed or canola oil
1 teaspoon sesame oil
1 teaspoon honey

1 teaspoon grated fresh ginger
1 clove garlic, minced
1/8 tsp kosher 
salt and pepper
CHICKEN
1/2 cup hoisin sauce
2 tablespoons rice vinegar
4 teaspoons Sriracha sauce (or more!)

4 tablespoons less sodium soy sauce

2 teaspoons grated fresh ginger
2 pounds ground chicken
(2) 8 ounce cans water chestnuts, drained and diced
1/4 cup chopped unsalted peanuts
SALAD
6-8 cups of mixed lettuce, chopped
grated carrots (optional)
random additions like snow peas or chinese noodles (optional)
Directions
In a small bowl, whisk together the vinegar, oils, honey, ginger, garlic, and salt and pepper to taste to make dressing. Set aside.
In a medium bowl, whisk together the hoisin, vinegar, Sriracha, soy sauce, and ginger. Set aside. Heat a medium skillet over medium-high heat. Spray with cooking spray then add the chicken and cook until browned and cooked through, 8 to 10 minutes. Add the water chestnuts and peanuts to the pan. Pour the reserved hoisin mixture on top and cook for 1 to 2 minutes to heat through.
Remove from the heat and set aside. We like this very well when the chicken is fresh from the stove and even better when it's been chilled in the fridge – very refreshing!
To serve, combine lettuces, carrots and any other additions. Top salad with chicken mixture and drizzle with dressing and toss.