We had a wonderfully full weekend (again).
We got things started off right by hosting a couple of our closest family friends (friend families?) for dinner and the planning of our EPIC road trip, scheduled for August. Matt cooked jerk chicken. We drank mint juleps and wine. The guys played around in the shop, the kids watched a movie and the ladies took a long walk around the 'hood.
Matt and I got up earlyish on Saturday and took a run around our neighborhood. With views like this, even an early morning run is pretty awesome.
We met this little guy (probably 6″ long) on the trail. He was still cold and immobile in the shade and I was fine with that.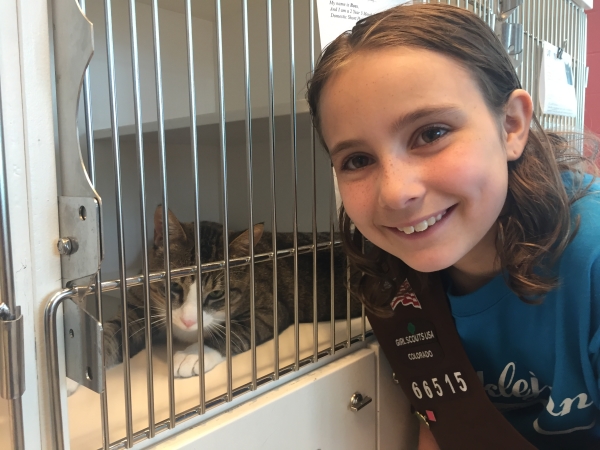 After our run, the kids headed to karate. They had to make up the lesson they missed Thursday while we were at the school art show and anniversary celebration. They're both doing great and Ben is ready to test for his purple belt!!
Following karate, Matt and Ben went to see a man about a new tool for the shop and Tabby and I went on to event #2 of the day – Girl Scout field trip to the animal shelter! I don't think Tabby could have picked a better field trip.
I of course, was inundated with requests to take home a new pet, particularly a cat. As I am severely allergic, saying no was easy. Though Tabby did meet this guy and even I had to agree he was pretty awesome. His name is boss and he's about 2 years old and he's the biggest love bug. All he wants to do is snuggle and is practically climbing out of the cage to do so with everyone who passes. Ahh well. I know he'll find a good home.
After the shelter tour, we went home and had lunch and after that, we headed off to Ben's Cub Scout bike rodeo where I took (somehow) 0 pictures. What's up with that?
We went back home for the second shower of the day and headed off to my cousin's graduation party where I again took 0 photos. Seriously, what's up with that??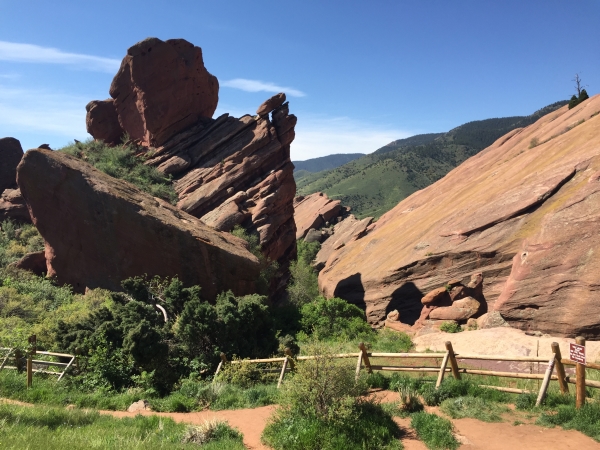 Sunday I got up and went to the store while Matt worked on our picnic lunch that we took when we went hiking with friends. We hadn't hiked at Red Rocks before (just gone to concerts and movies) and it was a fun place to hike! The kids were minimally cranky and kept asking us for math problems the whole hike. Ben is doing multiplication very well and Tabby has advanced to solving some pretty good equations (3x²-8=40).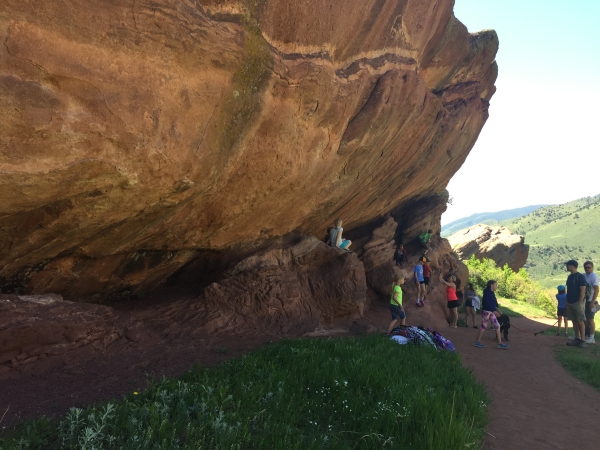 The trail was particularly fun for the kids because there were some neat nooks and crannies to crawl up into (see first pic above).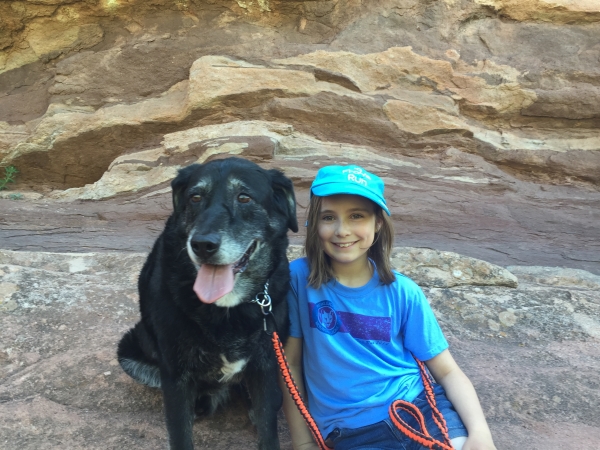 Our old man dog had a nice hike too, but he does show his age. Lots of huffing and puffing and a little limping at the end.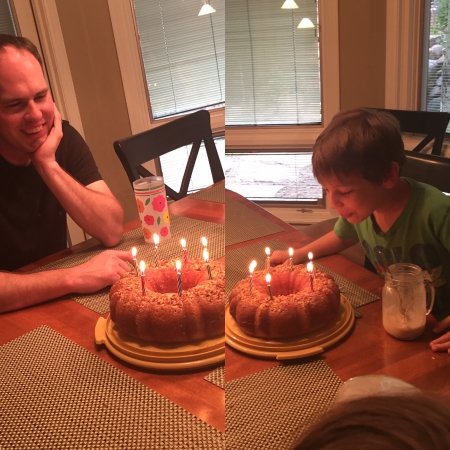 We had just a little free time between the hike and heading to my dad's house for dinner. He made us ribs and potatoes and corn on the cob, plus a rum cake to celebrate Matt and Ben's birthdays (belatedly).
Who could ask for anything more?