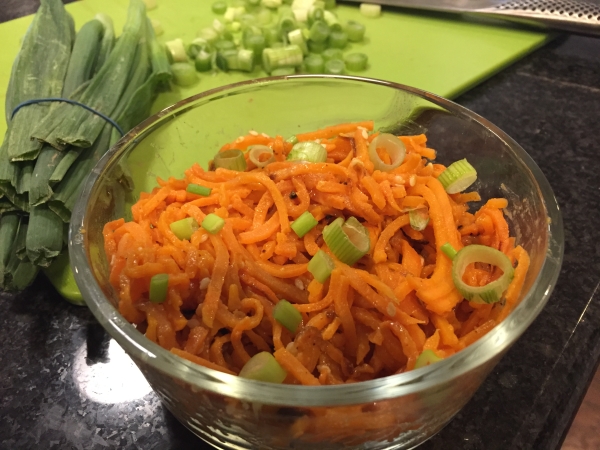 I've had a spiralizer for maybe a year now. I was pretty excited by it when I first got it but I rapidly figured out that while I love zoodles (zucchini noodles), the rest of my household does not. I should have been pulling it out regularly to make myself zoodles for lunch, but I think I was kind of bummed.
Luckily, I spotted Organic Dietician's recipe for Sesame Sweet Potato Noodles and I decided to give it a whirl. Who doesn't love sesame noodles? It was a success, but it needed just a little tweaking to be perfect for me. Added bonus, Matt loves them too.
Ingredients
2 medium to large sweet potatoes, peeled & spiralized
1 T olive oil
2 T no-sugar-added peanut butter
1 T sesame oil
2 T apple cider vinegar
pinch salt
1 T sesame seeds
sliced green onion (for serving)
sriracha (for serving)
Directions
Place spiralized sweet potato in a microwave-safe bowl and drizzle about 1 T water in the bottom of the dish. Microwave 8-12 minutes depending on how cooked you'd like your sweet potato. I like mine with just a hint of crunch and so I go about 10 minutes.
Heat olive oil in a skillet and add noodles. Saute for about 5 minutes. This removes some excess water and makes them a bit more noodle like.
Meanwhile, whisk together peanut butter, sesame oil, vinegar and salt.
When noodles are cooked as desired, toss with dressing and top with sesame seeds and green onion & sriracha if desired.
These are great warm, but I like them even a bit better cold the next day.