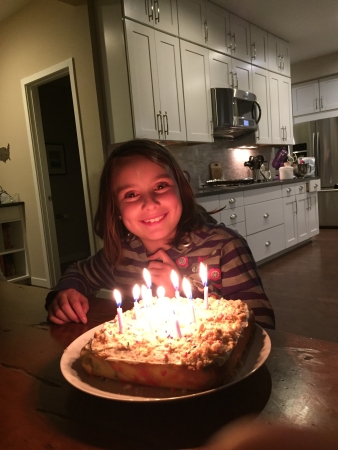 Miss Tabby had a crazy good birthday. I'll skip the drama about how I can't believe she's 9 (I can't!) and tell you all about her big days.
Friday was the official birthday. She got to open a couple of presents before school – the ones her grandparents in Nashville sent and then it was off to school. She likes school anyhow, but she totally lucked out – they had a field trip at school and not just to any old museum or park, but to the Celestial Seasonings Tea Factory! Tabby loves tea almost as much as I do and this was, of course, a perfect birthday trip for her.
She had a friend come home with her after school. When she got home, we let her open our gift to her. We'd already given her her major gift a bit early (a watch) and so she just had a couple random fun little things …
… Rey's Story, some washi tape (she's a bit obsessed with this), a 3-lb bag of gummy bears, some new earrings, and some $$ to spend on a movie for her sleepover and some new graphic novels for her kindle.
Within a couple of hours, 3 more friends arrived to play. Matt picked up Thai food and though none of her friends had eaten pad thai before, they all tried it and 2 of 4 liked it and wanted more. I had buttered noodles for the others and for Ben, who used to like it but now claims he doesn't (whatever).
They ran off to play again after dinner and we cleaned up and got ready for stage 2 – cake. I had undertaken the crazy Momofuku Milk Bar Funfetti Cake and it was in the fridge, ready to go.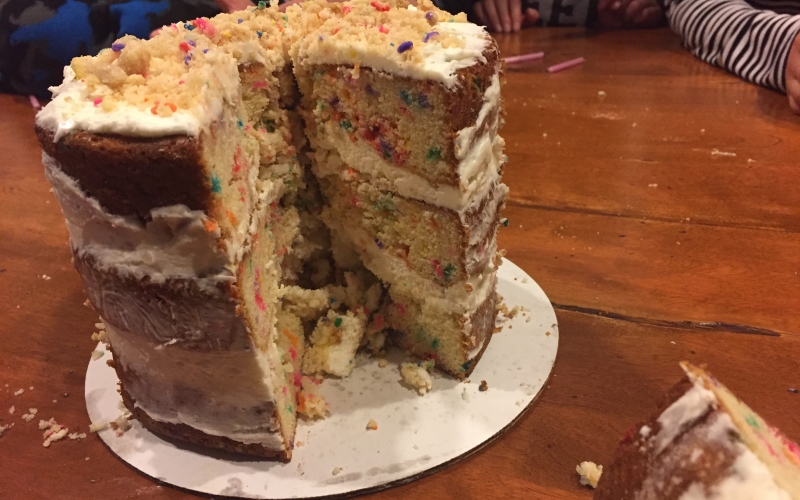 This cake is ridiculously fixy with many pieces and many steps and even odd ingredients I had to order off the internets like clear vanilla extract and glucose. But, honestly, it was really darn good. My biggest beef with the cake is that it was very tall and only 6″ in diameter, so it was kind of hard to divvy up in a pretty way. Oh well.
Everyone enjoyed it though no one could finish their piece. With kids, that's saying something!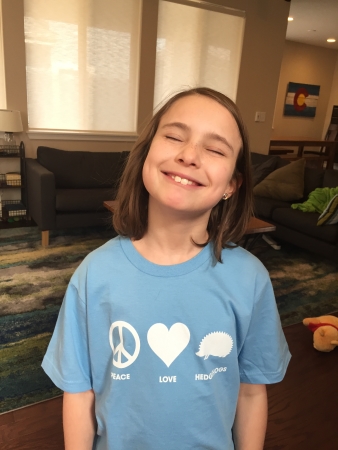 After cake, Tabby opened her presents. She got nice gifts from all her friends – Shopkins, a hedgehog love tshirt and a couple of craft kits.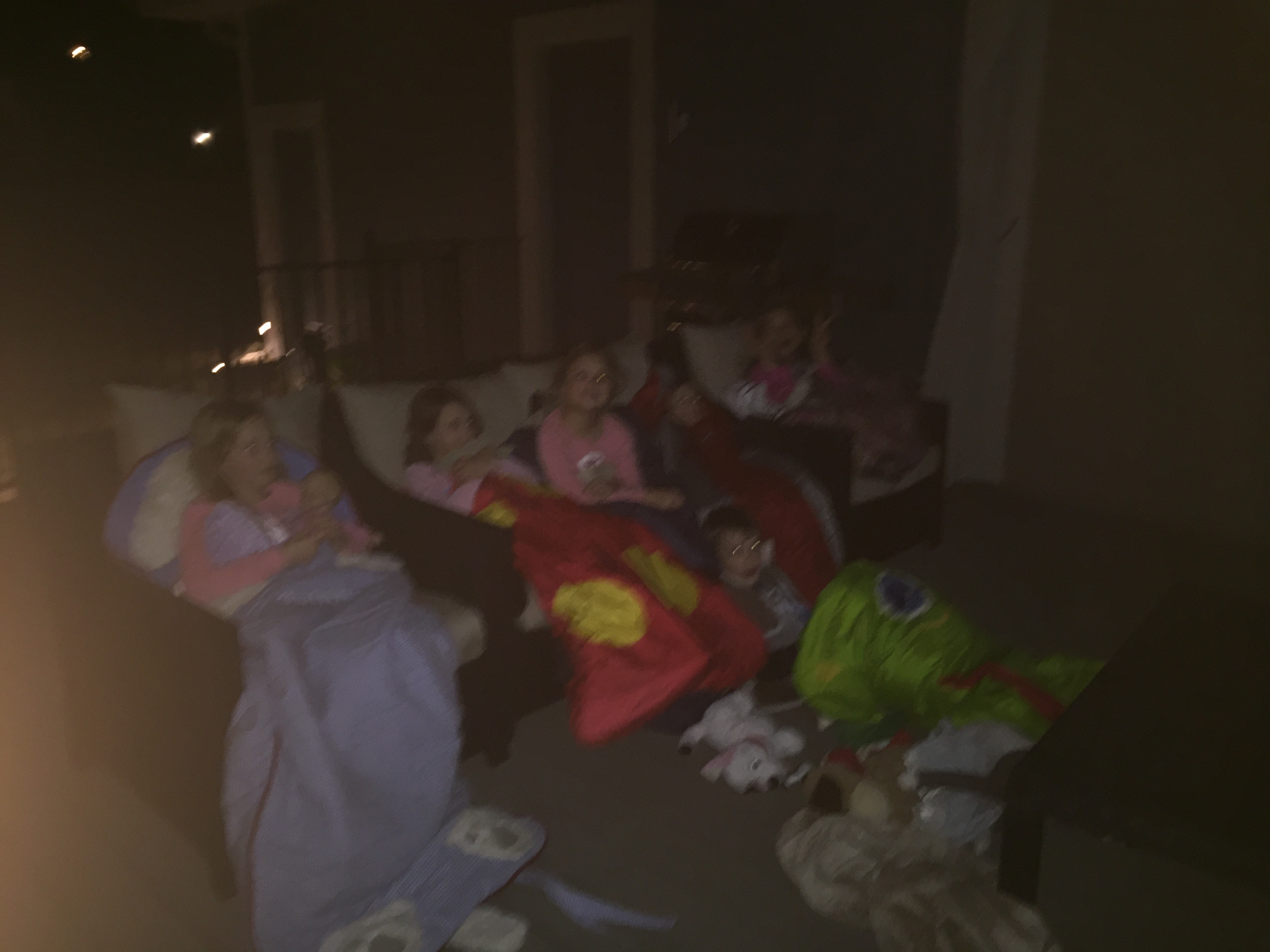 The last act of the evening was watching Mary Poppins (Tabby's choice) on the back porch with her friends. The weather was pretty nice and we ran the fireplace to keep the chill off. They got to have popcorn and root beer and, of course, gummy bears.
I was exhausted and went to bed around 10:30 but most of the girls were up 'til around 12:30 (oy) and then up by 6 (double oy).
I finally got up around  8 and we made them crepes (a huge hit) and let them play until around 10 when I'd deemed it be official pickup time.
Tabby got a reprisal with Papa and Gaga on Sunday night but aside from the cake picture (first one in this post), I was too exhausted to remember to take any other shots. It's what happens when you run 7 miles, hike 2.5 more and generally get too little sleep over a weekend. But I think it's safe to say that Tabby's 9th birthday was an unqualified success.