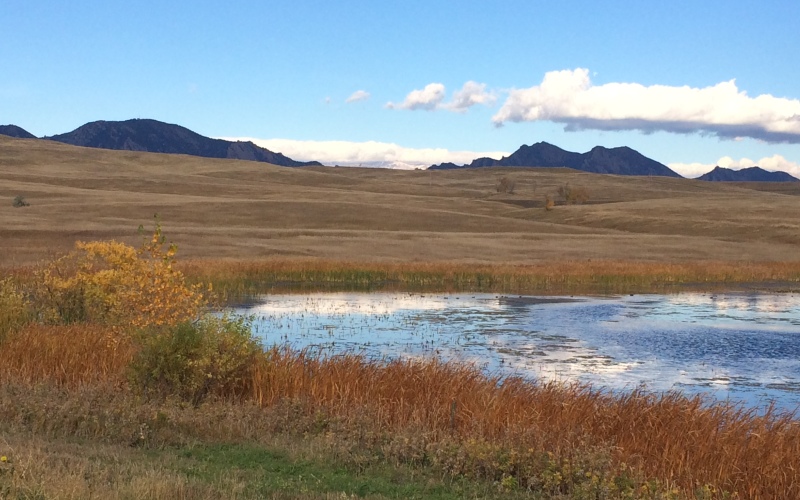 It has been a glorious fall here. No wind. Not much rain. No snow. The leaves have stayed on the trees and we've had nice mild weather most days and even quite warm on others. I know it won't last, but I'm enjoying it while it does.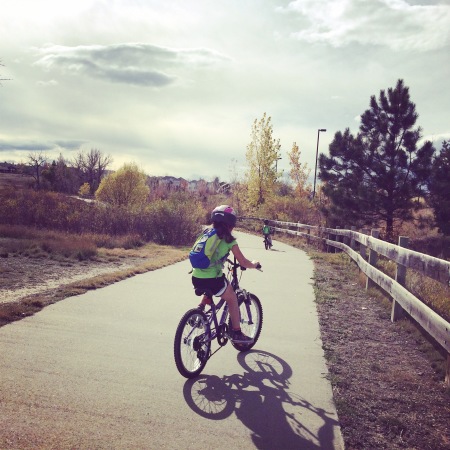 We've been spending a lot of time outside while we can. We are in the second week of C25K with the kids and that's actually gone better than expected. There is some grumbling from Ben at the start, but he usually falls in line pretty quickly. I have the app on my phone and we run and walk according to its directions and everyone is (more or less happy). The big problem has been fitting in the three weekly runs with everything else we've got going on!
We've also been pulling out the bikes a lot. Ben is much more enthusiastic about riding bikes than running (despite loving to run when he is in charge) and his little legs have to pedal more revolutions than anyone else's yet he keeps up really well. Tabby has learned to use the gearing on her bike and Ben is wildly jealous of this and desperately wants his own big-boy bike for Christmas (along with half the contents of the Target toy and electronic departments). This weekend, we made it 7 miles!! That's not bad for most adults, but for little guys, especially those with no gears, it's incredible! He had a 4 hour nap that afternoon as well …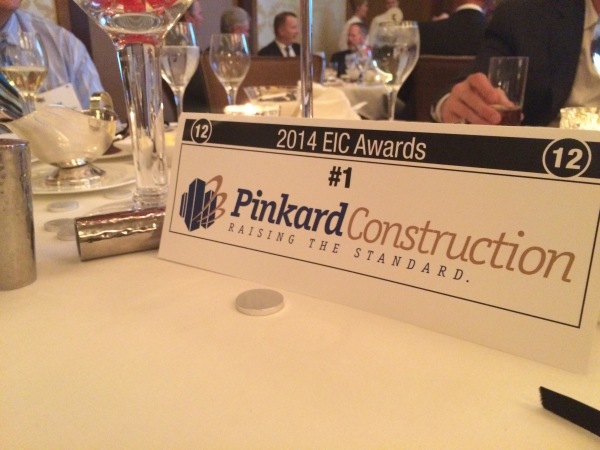 Work has been a giant blur for both of us. Matt is on a big deadline and I have had my usual many little, medium and big deadlines. But it's somewhat nice to be busy. Job security and all. We attended my trade associations' annual awards banquet where we were honored with three awards, including a marketing award. It was at the Four Seasons and very fun with a James Bond theme and a casino night.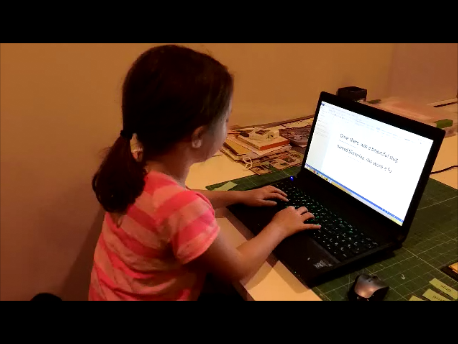 The homework has kicked up another notch, adding book reports into the mix. Tabby has (appropriately) graduated out of picture books and now read a chapter book every other week and then fills out 4 pages worth of forms on its contents and characters. I personally wish she could read just for the fun of it, but I'm sure there's some standard somewhere that wouldn't be adhered to. Mostly, I really enjoy hanging with my girl and doing homework, but it really cuts into our family time and my personal free time.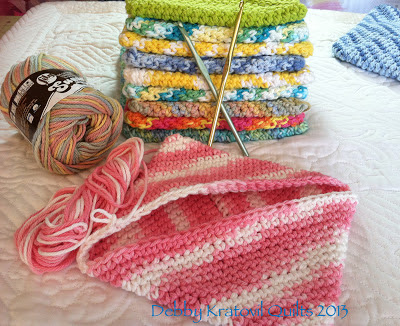 Speaking of free time, we've been watching a lot of movies and football in our spare time. Seems like cozy fall evenings and afternoons are perfect for it. And it's been great fun to share some of the old classics with the kids (Mighty Ducks! Ghostbusters!). While we watch, I've been working on teaching myself to crochet. My favorite potholders are some my grandma made us (like those above) and I found the pattern online and learned how to do it from some You Tube videos – not too bad. The only problem is, my potholder came out smaller than what I anticipated. I'm going to get Grandma's opinion when she comes over next time. Maybe I just need a bigger hook?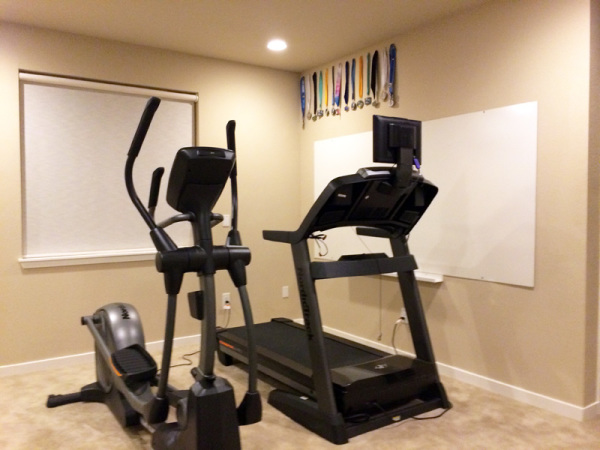 The other thing I've been spending a bunch of my time on is working out. Not every day, but I make it over to our little home gym most days to at least run. This week Matt's installing my new pull-up bar, so I can have some high-flying fun as well. I also have some still rings on order. Love this stuff!  I hope to be able to do a good tour of that room soon. It's really shaping up nicely.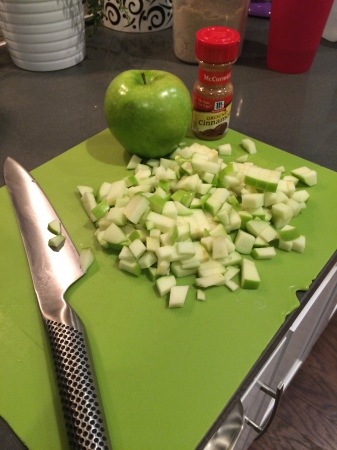 And in the kitchen, I've been going great guns. We've really been focusing on eating at home, both for health and savings. We've been making tons of old family favorites and a good few new recipes thrown in (I've posted most but not all of those here). The mandate of having a single breakfast item for the kids has gone really well, so most every Sunday evening, I am to be found in the kitchen, prepping some sort of breakfast goodie for them. Oatmeal is the go-to because I almost always have the ingredients available: milk, fruit, oats. This week I made a bunch of breakfast sandwiches, cooking the eggs in a whoopie pie pan I picked up on Amazon for $7.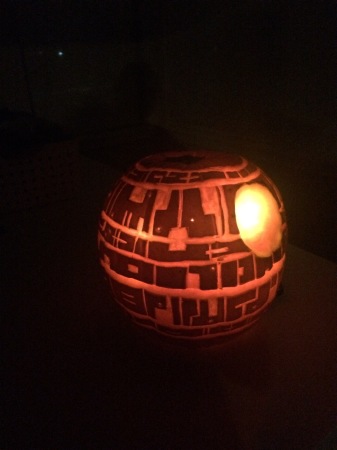 And speaking of this weekend, it was a pretty smashing one. We had a quiet Halloween at home this year, carving pumpkins and trick-or-treating. We didn't get too many visitors (our section of the 'hood isn't too built up yet) … and the kids visited maybe 20 houses and had their buckets filled by homeowners eager to get the sugary stuff gone.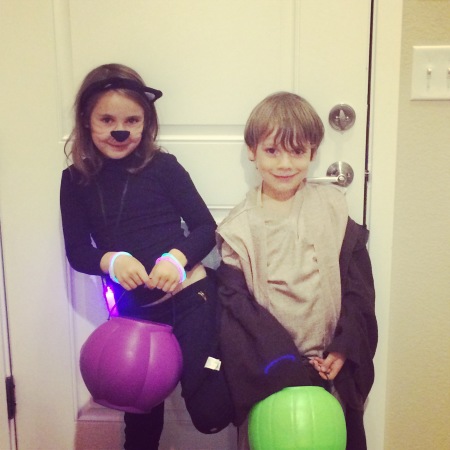 We had a black kitty and a jedi knight, two of my favorite costumes so far … mostly because they suit them so well. They were also warm! It wasn't freezing here like last year, but there was definitely a nip in the air.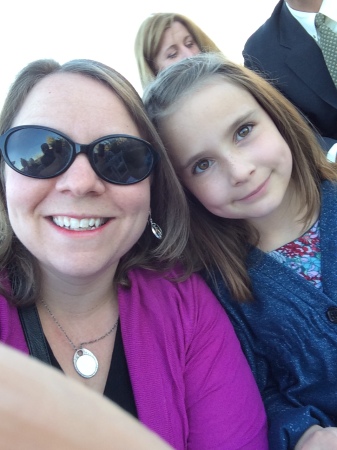 We also attended the wedding of a family friend (who I used to babysit for!!). It was a wonderful celebration of their love and I'm so glad to see them so happy and ready to start off on their new life together.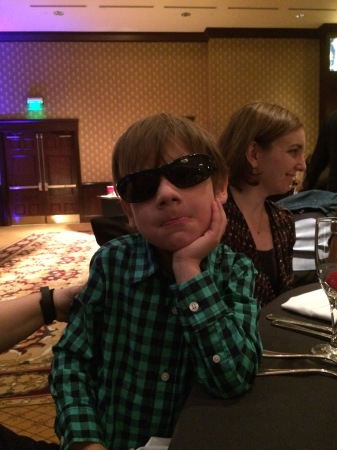 We all had a great time at the wedding, but particularly the kids who really lived it up. Tabby ate tons of crab and loved the mashed potato bar. Ben was a dancing fool, dragging me onto the dance floor to strut his moves. It was a real treat to just be silly and have so much fun with them.
And just like that it's November and we're heading into the holiday season!