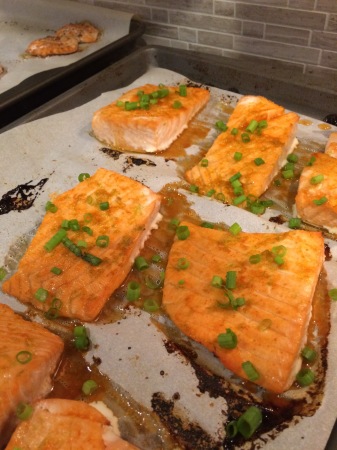 I like anything I can get on the table for my family in under 30 minutes that is healthy, real food. Salmon almost always fits that bill because it cooks quickly and needs very little adornment to make it special. This dish is no exception and is a really great addition to any week night warrior's repertoire. Add my summer squash hash and it's a full, healthy, very yummy meal with leftovers for lunch the next day.
Ingredients
For the salmon:
2 pounds salmon cut into 4-6 oz pieces
1 lime
1 T Sriracha hot sauce
2 T brown sugar
1 t sea salt
2-3 green onions, thinly sliced, for garnish
For the Summer Squash Hash:
2 cups cooked rice (brown is our fave)
3-4 summer squash (zucchini or yellow squash) cut small or julienned
1 T butter
S&P or salt and lemon pepper or garlic salt or … ?
Directions
Heat oven to 425. Start your rice cooking. Heat water on the stove or turn on the rice cooker and get it going. Then prep your summer squash. We use the mandoline on the fine grate setting and turn over 4 squash in just a few minutes. This is a good time to slice the green onions as well.
Next, cover a baking sheet with parchment or foil and place the salmon pieces on top. Zest the lime over it. Then combine the lime juice, Sriracha, brown sugar and sea salt together in a small bowl. Drizzle over the salmon and place in the oven for 16 minutes. We found this is the perfect cook time for us, but if you have very thin salmon or like it more rare, you should probably check after 10 minutes.
Now, use the next 16 minutes to cook your summer squash and finish up your rice. Heat 1 T butter in a fry pan and add the summer squash. Saute for 8-10 minutes until a bit soft. Don't move it around too much, you want to move some moisture and start to get it a little brown if you can. Season with your desired spices and combine with the rice.
Sprinkle green onions over salmon and serve atop your delicious hash. Enjoy!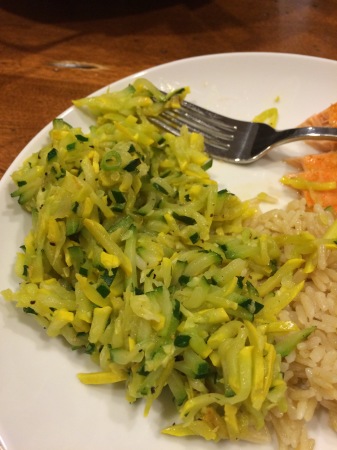 Notes: we do not find this to be a particularly spicy dish, despite containing Sriracha. The fattiness of the salmon seems to cut it nicely. Also, hash is equally delicious deconstructed (with rice and squash not touching) if you happen to have picky eaters.