Life has been getting in the way of my posting on here. I can't really make any apologies for that. It's been a fun and (as usual) crazy couple of weeks.
Last week we had a particularly stressful rush to finish and  drop off a proposal on Wednesday morning. After the eagle had landed, I coaxed my reportee into going to brunch with me so we could do his (very late) yearly review. It was great timing and we had a lovely brunch at Snooze, one of my favorite breakfast restaurants, in their new location – the newly renovated Union Station. The renovation was well done and they decided that only local restaurants could set up shop there, so we have some wonderful Denver restaurants there and it's a great vibe.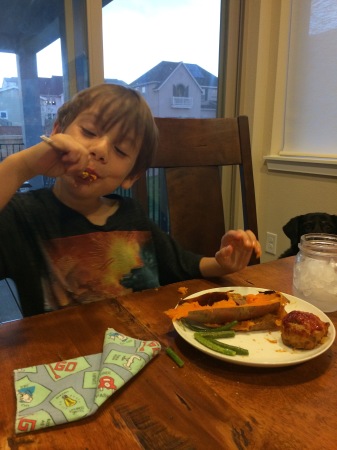 It's been great cooking lately. Fall/winter food is my favorite. Lots of comfort food and soups and pastas. We've made meatloaf cups (with baked sweet potatoes), some yummy skillet lasagna, and a really great peach salsa chicken in the crockpot. And of course soup! Broccoli cheese, lentil and chicken gumbo. I still want to recreate an awesome frozen meal (!!) I had – Evol's Chipotle Chicken Mac 'n' Cheese. Maybe next weekend.

We've been going on some lovely walks in the 'hood. We figure we better get it in while we can. Already, it gets dark pretty early making it hard for us to get out in the evenings. Snapped this shot at the top of a hill in our 'hood – wish it was a bit less street, but the sky was gorgeous and I'm glad I captured that. there's also a big moon hanging over the lake, though it's a bit hard to see in this view.
I almost hate to write it, lest I jinx it, but … in semi-related news, I've been running more. I finally gave up trying to work out early in the morning like I did for years. It just hasn't been working since I frequently need to get myself to work very early these days and just getting presentable is enough for me. So Matt and I have been regularly using our workout room in the evenings and it's been great. I actually spent 70 minutes on the treadmill last night. No idea how long since that's happened!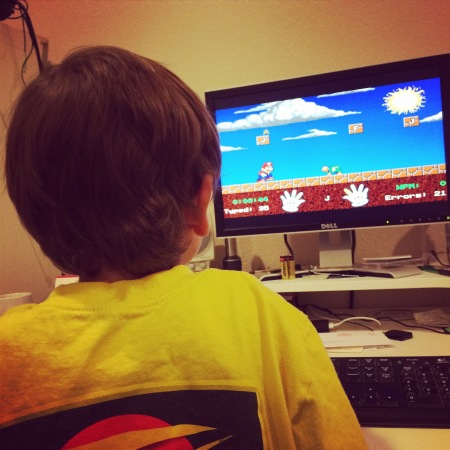 School and activities are in full full swing. Tabby has homework every night and Ben is getting it on a weekly basis. We are fortunate to not have "crazy" level homework. Tabby gets a math worksheet every night and a spelling-related task  and Ben has a poetry folder with activities and sometimes some math every week. Tabby also has a take-home book, which at her reading level are pretty long and she rarely completes in a single night.
We have condensed karate into a single night where they both have a private lesson (though not together) for 30 minutes followed by the 60 minute group class. They would progress faster, I'm sure, if we'd take the time to get over there for another group class each week, but I can only take so much and so can they. Even with our limited karate time, Tabby is testing for her orange belt next weekend. We were hoping Ben could test a while back, but he still hasn't reached the level of attentiveness his senseis are hoping for and he's stuck at yellow belt 'til he can get that resolved. It doesn't seem to bother him and they say he is making progress.
In our down time at home, we're doing a lot of reading together. We've finished off three Little House books and are in the midst of the fourth (On the Banks of the Plum Creek). Out on the deck by the fireplace is a great spot for reading these books and both kids are enjoying them. I'm planning on reading some more classics to them after this – A Girl of the Limberlost, Old Yeller and Where the Red Fern Grows. Eventually I want to read The Hobbit and of course, Harry Potter. Cuddled up on the couch with them is one of the best parts of my day.