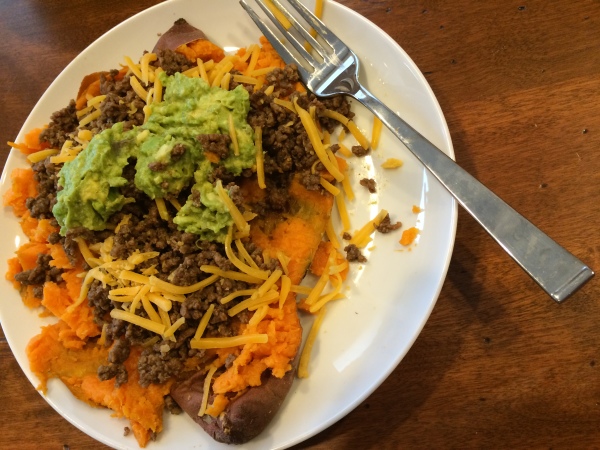 I had to post this recipe, because this is another one of those that has reached the vaunted "family favorite" status. I know, from the photo, it kind of looks like a hot mess, and even when I reveal the ingredients, you'll probably think we're nuts, but seriously, TRY IT. It hits all the right notes and when I serve this, EVERYONE licks their plate clean.
The original idea for this came from Iowa Girl's Smothered Sweet Potato Fries and that recipe is AWESOME in its own right (it's even got a great trick about stretching ground beef with mushrooms). But we like the health of the plain ol' sweet potatoes and we so often have regular ol' taco meat left over, I just usually use that.
Ingredients
1 lb lean ground beef (soy crumbles? you decide)
4 sweet potatoes
1/2 C shredded cheddar
2 avocados
taco seasoning (we use garlic salt, cumin and chili powder)
guacamole seasoning (garlic salt + cayenne pepper for us!)
Directions
Bake the sweet potatoes however you do … partial time in the microwave? Use your crockpot? Whatever works. We usually just shove them in a 350 oven on a cookie sheet lined with foil (they leak sweet potato juice, yo) for about an hour. They need to be tender.
Towards the end of sweet potato baking, brown the ground beef and season with the taco seasoning. Then halve the avocados, pull out their flesh and mash it in a bowl. We actually  have a mini-sized masher just for this job. It works swell. Season it as you do any old guacamole. We are very basic with the garlic salt and cayenne but I know lots of folks who do lime juice, onions, tomatoes, salsa, siracha, and on and on.
Once the potatoes are baked, halve them and mash on a plate to form a nice bed of sweet potato. Top with taco meat, cheddar cheese and let it melt a bit (you can nuke it if you don't have enough residual heat from meat/potato). Then serve with the guacamole.
It's filling, satisfying and pretty darn good for ya!