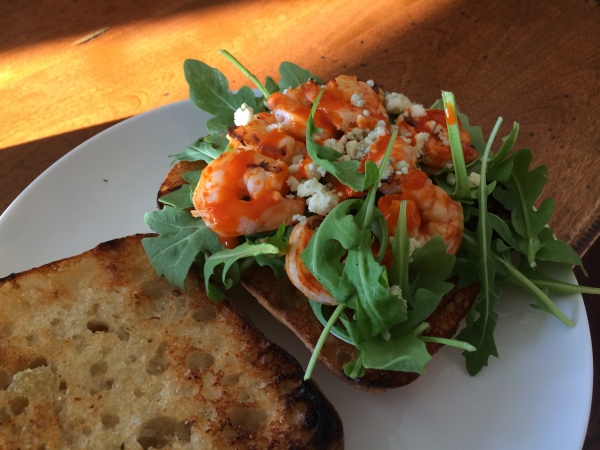 These po' boys originally came to me via Mother Thyme. Buffalo?! Shrimp?!? Sandwich?!? Yep, you got me. I had to bite.
I have no idea what the original recipe says. When I went to find the link, I didn't even bother to look, because it's now in my brain the way I make it and that's what I'm sharing with you.
Ingredients
shrimp! peeled and defrosted – however many your family will eat and/or will provide adequate leftovers
buffalo sauce – maybe a cup or so? you need it for basting on the grill and drizzling on the sandwich – WE USE (and love!) FRANK'S
blue cheese crumbles
baby arugula
bread! You can use what you like, but in my opinion, crusty is good. Ciabatta has been really good for this, but you could use french bread, possibly bollio, or something else you prefer
butter
garlic salt
onion powder
Directions
Heat grill to medium. Prepare shrimp by peeling and defrosting as necessary. Thread on to skewers and brush with buffalo sauce. Prepare bread by splitting in the middle and cutting into sandwich size pieces if necessary. Then spread/brush with butter and sprinkle with garlic salt and onion powder.
Bring prepared shrimp skewers and bread to the grill. Grill shrimp skewers until they have changed color properly, about 2-3 min per side. Depending on the configuration of your grill, you can grill the bread at the same time, or you can do it once the shrimp are done. Go buttered side down and about 5 min if it's on an upper rack (this is what we use) or only a minute or so if it's on the main grilling surface.
To assemble, layer arugula and a skewer and a half or so of shrimp on top of the grilled bread. Sprinkle with blue cheese crumbles and drizzle on more buffalo sauce, then add the top bread.
We've made these two or three times now and they are almost universally a big hit, at least with adults. The kids are wary of the spicy buffalo, so we leave that off for them and just give the shrimp a little S&P. They come together VERY quickly and I like that you don't have to heat up the oven or stove to make them. They are a great picnic food and we've served them with our apple/cucumber slaw.