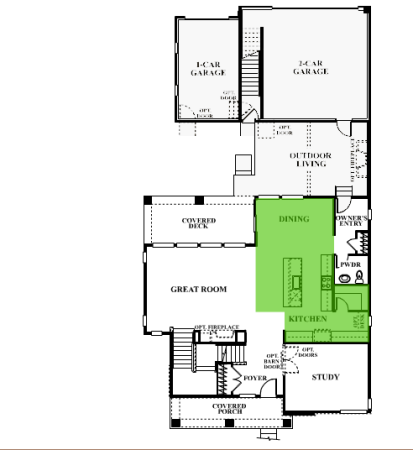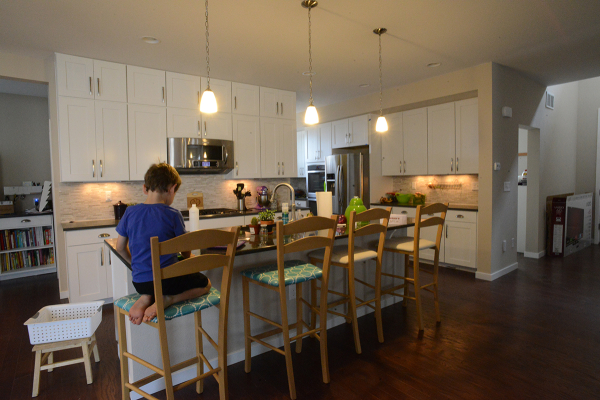 The house tour continues this way, to the kitchen and dining room areas. The kitchen may have been the room I was most excited about before we moved. I truly loved our cozy little kitchen in the old house and was sad to leave it, but I was eager for the very nice upgrade this kitchen gives us. I've said it before … people gather in the kitchen, especially when you cook! We love to cook and would frequently have 6+ people in our little kitchen. That plus extra space for one of our favorite hobbies had both of us twitterpated.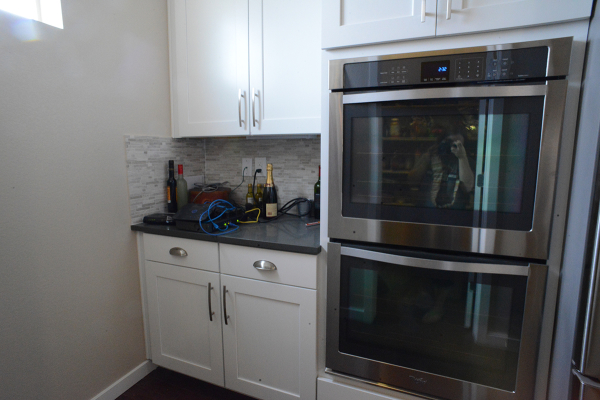 Kitchen 
The new house has an open floorplan so dining, kitchen and greatroom seamlessly blend together for a big room that somehow nonetheless feels cozy. I love that the dining room is directly adjacent to the kitchen and I really love our dedicated pantry and a ton of extra cabinet space. This room is probably second only to our office in terms of level of organization required since we have LOTS of cooking gear, all of which we USE. We are about as far along in this room as we are in any room, but we still have a little ways to go.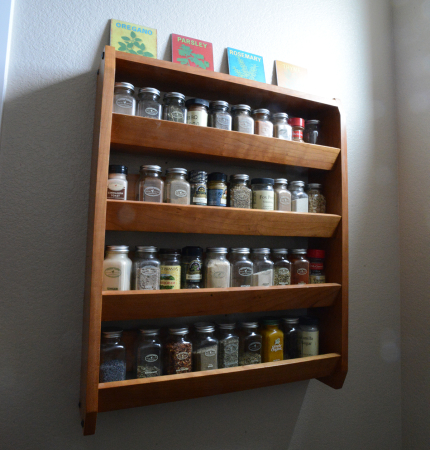 I was very excited to find a great spot for our spice rack. Not only do I love it for looks and function, but it's one of the first things Matt ever built! On top of that, it ended up being a great place to showcase these cool little tin prints my mom got me (actually I think she got me the veggie ones and these went to my sister, but I ended up with them anyhow).
Done
Unpack. This was a hurculean effort and it's DONE. YAY US.
Organize the kitchen
Hang spice rack
Hang produce basket from wall
Place attractive decorative plant and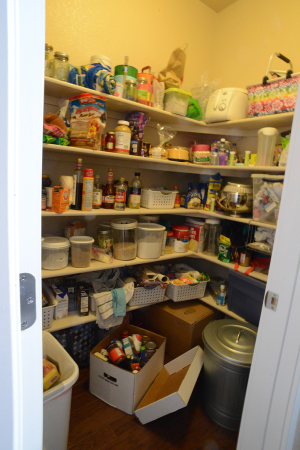 To Do
Organize the pantry (sooner)
Get rid of the random spaghetti junction on the very back counter that is our ad hoc temporary networking center (sooner)
Replace the pendants over the island with the big green ones (sooner)
Think about alternative arrangment for paper towels – under sink? (later)
Replace the bar stools with ones that function properly and compliment our decor ($$$$ later)
The function of the kitchen has been great so far. We have tons of space to work in and even some empty drawers and cabinets (!?!). The kids can eat breakfast at the counter and it will be a great spot for a little homework as well in just a few weeks. The pantry, even disorganized is miles ahead of where we've ever been.
Additionally, one of my favorite features in the entire house is in our kitchen – the kicksweep. Kicksweeps in case you don't know are awesome little vents in your floorboards that you can kick open. They then produce suction and allow you to sweep a pile of yuck into them. They are genius! We love them.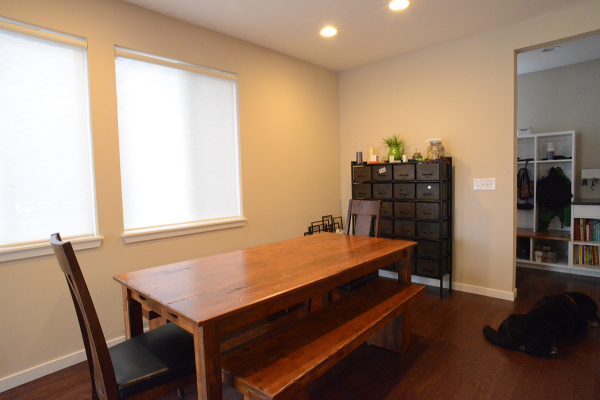 Dining Room
The dining room was an exciting room for me decorating wise because we got to get new furniture. With all the expenses of a new house, we didn't want to replace most of our furniture, and we didn't NEED to either. But the dining room was a different story. Our furniture was from ikea and going on 12 years old. It had been through dozens of parties and years of little kids. Its time had come and gone.
So we looked at length and finally found a furniture company out of Canada, Canadel, who makes semi-custom furniture. Pick a size, pick a leg style, pick a finish, etc. And so we did … A table, two benches and two chairs. It wasn't cheap, but we got exactly what we wanted and we're super happy with it. Likewise, our "sidebar" from PB teen, is also a perfect fit.
Like the kitchen, this room isn't 100% done, but it's 100% livable
Done
New dining set
New "sidebar"
Organize dining accessories
Hang roller shades
To Do
Put some stuff on the walls!! (sooner)
Consider a chandelier (later)