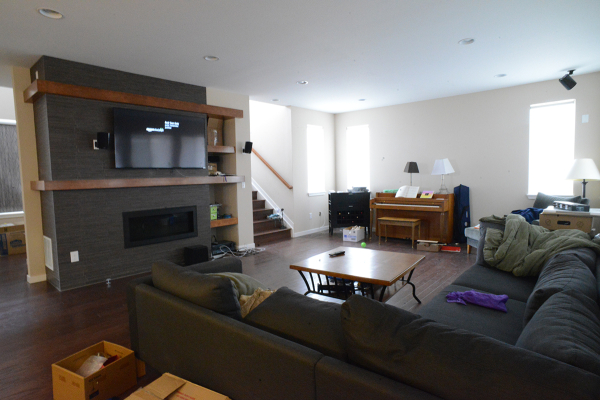 The great room is a big work in progress, for sure. It still has quite a few boxes, mostly of artwork, photos and A/V equipment that we need to deal with. But this house has less wall space, so we're biding our time, figuring out where the best things go and then we'll have to make some decisions about the others.
The great room is again where we ended up condensing two rooms from the old house into one room here. Our mostly unused living room merged with our oft-used family room and here's the result. Couch for TV viewing and socializing, fireplace for coziness, piano for playing, a cozy chair for reading and for good measure, the Mad Men bar cabinet that used to be in Matt's office.
We got an odd bonus in this room when our builder decided to tile past the mantle straight to the ceiling. We hadn't spec'd it or paid for it, but we got it anyhow and we do think it looks nice. It did make mounting the TV a huge pain in the arse. Oh well.
Done
Mounted the TV
Installed the window coverings (7 total!!)
Cleared out a ton of stuff
To D0
Hang artwork (sooner)
Clear out other random boxes (sooner)
Program the motors on the shades to work from remote control (sooner)
Fix the wiring to the subwoofer (sooner)
Throw pillows for the couch for color (whenever)
an area rug (whenever)
Paint the piano (later!!)
Yes, you read that last one right. I think I've decided to paint my grandma's piano. I like the dark honey wood better than I expected to in this room, but it's not my favorite and I do think we could use a big pop of color on that wall. I want to live with it for now and try infusing color in other places first. I might even just start with upholstering the bench.