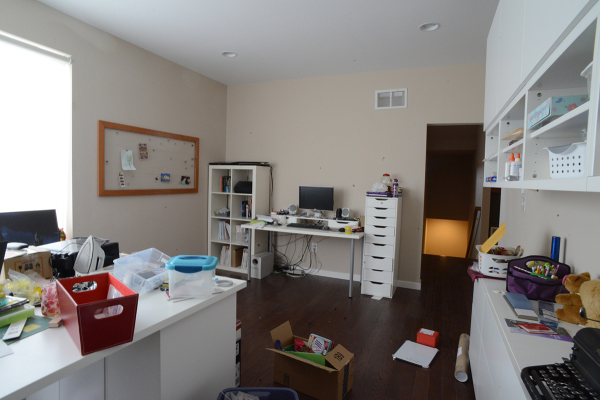 The Office
I've mentioned before that we actually ended up condensing some rooms when we moved from our old house to this one. We no longer have a family room and living room, just an (albeit larger) greatroom. And likewise, Matt and I no longer have separate offices, we now share one. Granted, this is not much of a sacrifice. I have a  lovely office that is 100% my own at work so my use at home is limited to when I want to do crafty things and when I need to work at home for work.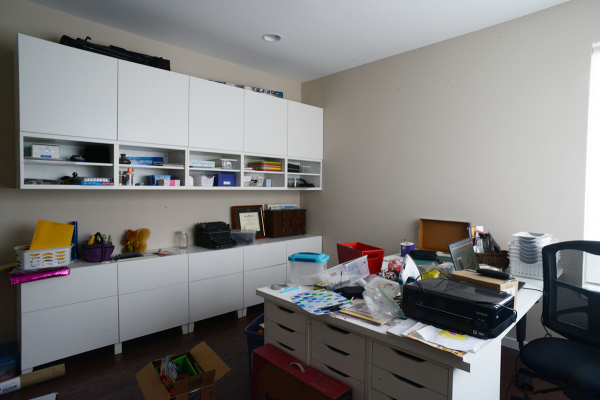 The office was pretty much a blank space, but we considered carefully and figured out what we wanted to do with the space: comfortable work area for Matt, occasional work area for myself and the kids and storage of all office/crafty stuff for the house. We bought the cabinets a month or more before we moved, on a Discover Card bonus 5% back and stored them. Assembly/installation was easily the biggest task in this room, but it's done now and the room is otherwise progressing very well.
Done
Assemble all cabinets
Hang/install all cabinets
Unpack/fill/organize all cabinets
Setup two desk areas
Search madly for a bookcase because (wow!) we still have a fair few books and get that in place
Unpack the books
Install window coverings
Hang photo board (from old dining room)
To Do
Finish up the unpacking/organizing the remaining random stuff and clear surfaces!! (sooner)
Construct and install the barn door! (sooner, hopefully)
Find a pair of chairs for either side of the work surface (sooner)
Add floating shelves and maybe a set of drawers above the work surface (sooner)
Hang some more art on the walls (whenever!)
Maybe add some floating shelves above Matt's desk (??)
Rug??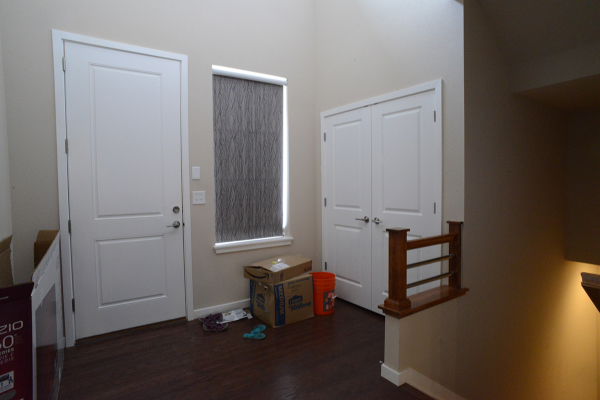 The Foyer
I debated even putting this "room" on the tour because it's hardly a room and pretty lackluster at this point. That said, however, I like this little entrance area and it has nice potential. Despite the fact that it spans both floors, it doesn't feel too grand and it's not overly big, but has a good feel. In the photo, you can see the front door and the window to its right. To the right of that is a very nice coat closet that is currently being used to store random things like the tools we're still using to put up this and that. The wall on the left side is the office and it will eventually have the barn door we're building. Behind me as I'm shooting this, it opens to the great room and kitchen.
Done
Put up window covering
Disperse the tons of junk that collected there while we were moving (the pile was WAY higher!)
To Do
Finish up with the boxes (sooner)
Think this area needs a nice rug … not sure what (whenever)
Place shoe rack for guests (sooner)
Maybe some art?? (whenever)