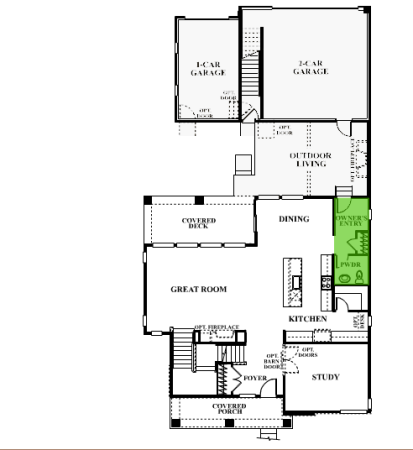 The house is coming along grandly, so I'm going to share, room by room what it looks like right now, what's been done, and what's left. Since the mudroom is where you enter, I'm starting there.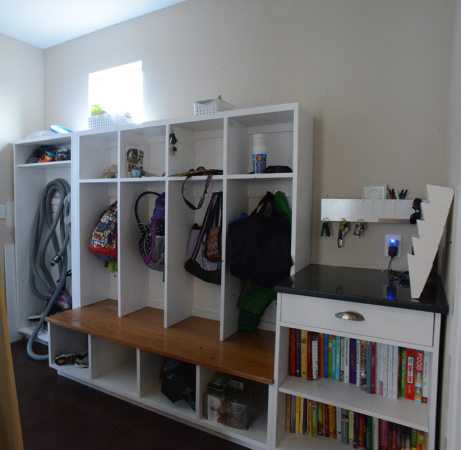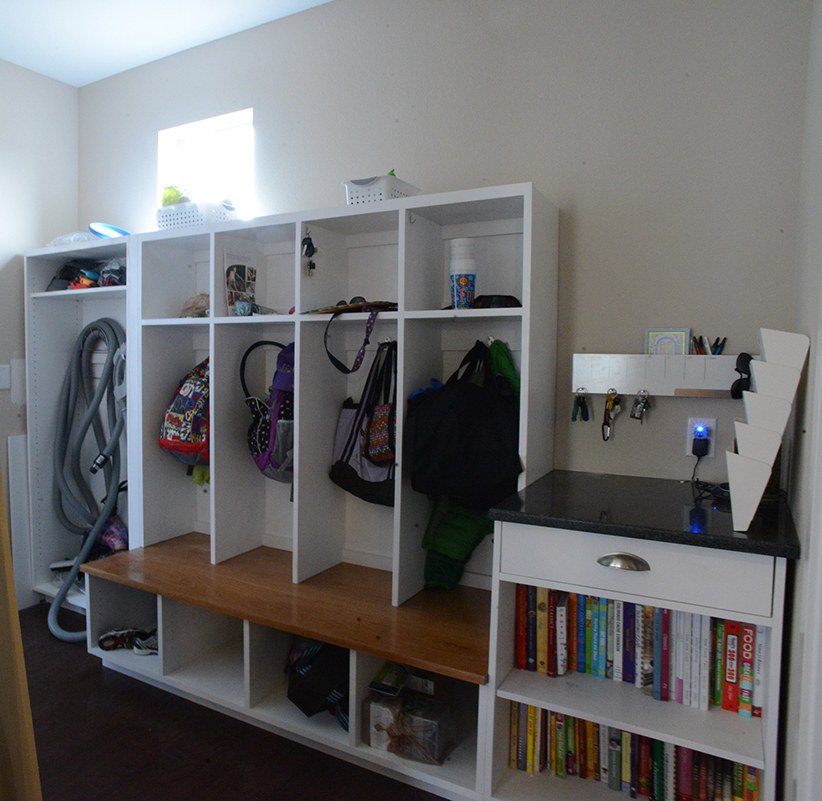 The Mudroom
We are so happy with the way this room has come together. We both feel an incredible sense of "hell yea!" whenever we walk in the door. This is one of those grand plans that truly has come to fruition. The spec on this room is for there to be a closet in the corner by the powder room, but we paid $50 to have it removed (I know!!) and Matt built cabinets to put inside it, based on this sketch I did.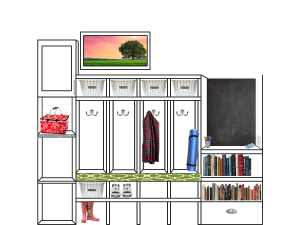 Of course, things changed along the way. We opted to do a pencil drawer right under the counter top and we nixed the shelves on the left for a broom closet and the boot bench is stand alone and doesn't open to the floor and its topped with cherry, not fabric. But the essence is there.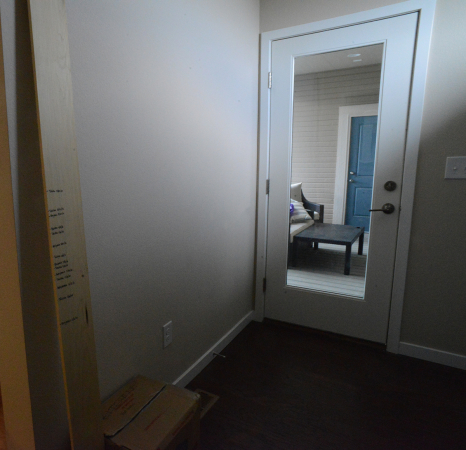 And here's a look at the opposite wall and a view outside into the outdoor living room.
What we've done:
built cabinets <– Matt is AWESOME
finished cabinets – Matt, my sister and I all worked like dogs on this
move alarm pre-wire switch
install cabinets! – Matt, a friend of ours and our helpful handyman did this not so little task a couple days after we moved in
procure granite on the cheap (all Matt)
install granite – included in the price of the granite (yay!!)
install hooks in each locker
install holders for vacuum and broom/mop in the broom cupboard
clear out Loki's stuff that was stashed in the drawer and put it in a basket in the top broom cabinet shelf  and put in pens and other useful things
hang keyrack
What we've got left to do:
make and install shelves in each boot cubby (later)
make and install doors on broom cupboard (later)
trim out left side of cabinet so it runs all the way to the wall (sooner)
repaint patch from where alarm prewire used to be (sooner)
procure baskets for top cubby cabinets (sooner)
teach kids to use lockers/cubbies (sooner)
paint giant chalkboard on wall closest to the dining area (considering will be done later)
hang kids' measuring stick on end of wall closest to dining area (sooner)
general organization stuff (??)
All in all? Not bad. The doors/shelves will be done once Matt's shop is up and running again and once I get over my current antipathy towards painting/sanding/finishing.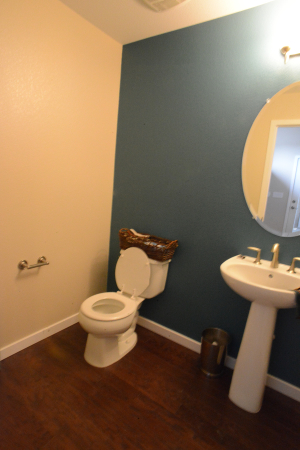 The Powder Room
There are few rooms in the new house that resemble their counterparts in the old house as closely as this one does. We used virtually the same color for our accent wall and the same art, hand towels, basket, etc. I really liked our old powder room, so I saw no reason to mess with success. But here's a recap:
Done
accent wall (thank you painting faeries!)
accessories added back in
To Do
Hang wall art, couple of great camping related prints (sooner)
Frame and hang another print that our friends gave us, a cute travel trailer made from CO maps!! (sooner)
Wouldn't mind changing out that mirror for something framed (no hurry)
So that is part 1 of the main level. Tomorrow – the kitchen + dining room!