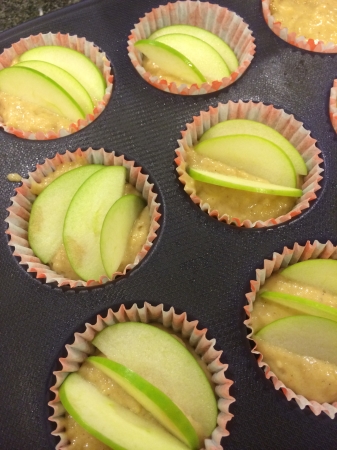 Last Thursday, before our trip to Granby, I finally got to do some baking in the new kitchen. Baking at our temporary digs was incredibly infrequent and I'd missed it! It was nice to get in a well-functioning kitchen and whip these up for our trip. As a bonus, they are GOOD.
The original recipe came from Chocolate Chocolate and More (the original original recipe came from Busy Moms Recipe Box and was actually Vanilla Pear Muffins). For my purposes, I lightened it up a bit. I decided 4T of butter was plenty for that nice smooth texture and subbed more applesauce for the 1/4 C oil and added a special sprinkle.
Ingredients
1 1/2 cup all purpose flour
1 1/2 teaspoons baking powder
1/4 teaspoon nutmeg
pinch cardamom
pinch cinnamon
pinch salt
2 large eggs
2 teaspoons vanilla
1 cup packed brown sugar
4 tablespoons unsalted butter, melted
1 1/4 cup apple sauce
1-2 granny smith apples
vanilla sugar or plain granulated sugar for sprinkling
Directions
Heat oven to 400. Line or grease a 12-muffin tin.
In a medium mixing bowl, sift together dry ingredients (flower, baking powder, spices, salt). In a separate bowl, combine eggs, vanilla, brown sugar, melted butter and apple sauce. Combine the egg mixture with the dry mixture, being careful not to over mix.
Pour about 1/4 cup of batter into each muffin tin. Quarter and finely slice the apples and add 3-4 to the top of each muffin. Sprinkle with sugar and bake for 20 minutes.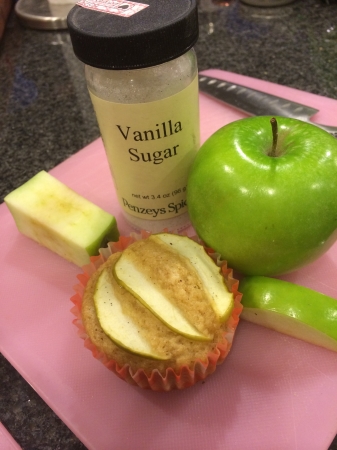 I happened to have some vanilla sugar hanging around the house that we bought on some hipster voyage to the spice shop. I figured it would be perfect for sprinkling in this recipe, and so I used that instead of plain granulated sugar. It was very nice and added to the vanilla flavor of these. You can obtain vanilla sugar from a few sources, but you can also make your own by mixing the scrapings of a vanilla bean with about 6 cups of sugar. It's nice, but I'm also sure it's not necessary.