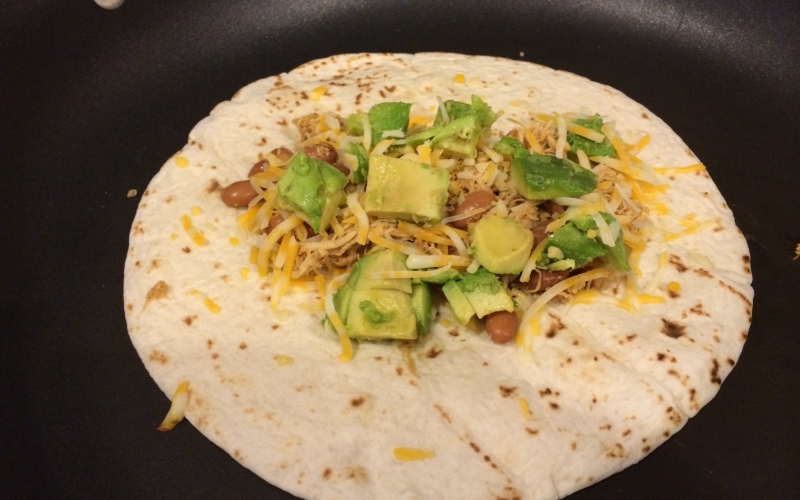 The whole family is in agreement – it feels so so good to be back in the routine of cooking at home! The hours we spent in the car, going back and forth between our permanent neighborhood and our temporary neighborhood nearly every day, really took it out of us and home cooking was one of the big things we cut out. Well no more! We've had little besides home-cooked meals for the past few days and we're all appreciating it very much.
These burritos are an amalgam of various recipes I've seen on the interwebs and others I've done before, but this combo turned out especially well. It made a lot of extra too and I froze some with avocado and some without, so we'll see how that turns out.
Ingredients
2 lg boneless skinless chicken breasts cooked about any way you like
1 lg can pinto beans or about 3 cups cooked pintos
garlic salt
cumin
chili powder
about 1.5 cups of shredded cheese of your choice (colby jack, mozzarella, cheddar, queso fresco)
2 ripe avocados
flour tortillas
oil/butter for browning (optional)
salsa, sour cream, etc. for serving (optional)
Directions
As a note, in this case, I slow-cooked a large packet of chicken breasts at the beginning of the week with some chicken stock for about 6 hours on low and then shredded them. I also have great success with dicing chicken breast, seasoning with S&P and browning over medium-high heat in a little olive oil. Pre-cooked from the deli meat or freezer sections would probably work great as well and I'd even try canned.
Heat chick and beans in a skillet over medium high heat. As they cook, season to taste with garlic salt, cumin and chili powder. Meanwhile, halve avocados and remove the pits. Slice in the skin in a grid-pattern and then scoop the newly-created chunks out with a spoon. Once the filling is hot, remove to a separate plate/bowl, clean out your skillet and heat it again over medium-high heat.
As the skillet heats, assemble the burritos. Take about 1/3 cup filling and lay it in a line in the center of the tortilla. Top with cheese (2-3T?) and avocado. I am thinking a squeeze of lime or maybe some chopped cilantro would be a nice addition as well. I'll try that next time. Roll as you do with a burrito, pulling the sides in to seal the deal.
Next, place the little donkeys back in the skillet for browning. Some folks like to use a bit of oil or butter for this step and I must admit it's tasty, but I usually omit it for health reasons, but if you're feeling indulgent, give it a go. Heat/melt your oil/butter before you add the burritos. We can fit about 4 in our skillet and we lay the lid of one of our other smaller pans over the top to keep them smooshed down a bit. Cook for a couple of minutes then flip. This step makes a huge difference between pretty meh burritos and haute burrito cuisine (is there such a thing?? must be because I just said it. QED).
If you're creating some frozen assets with the extras, skip browning and avocado (I'll report back on that later) and wrap them tightly in foil before sticking them in a freezer bag. When you're ready to heat, set your oven for 375 and place foil wrapped burritos inside for around 35-40 minutes. If you like, pull them out a couple of minutes ahead and give them the skillet treatment. It's just that much better.