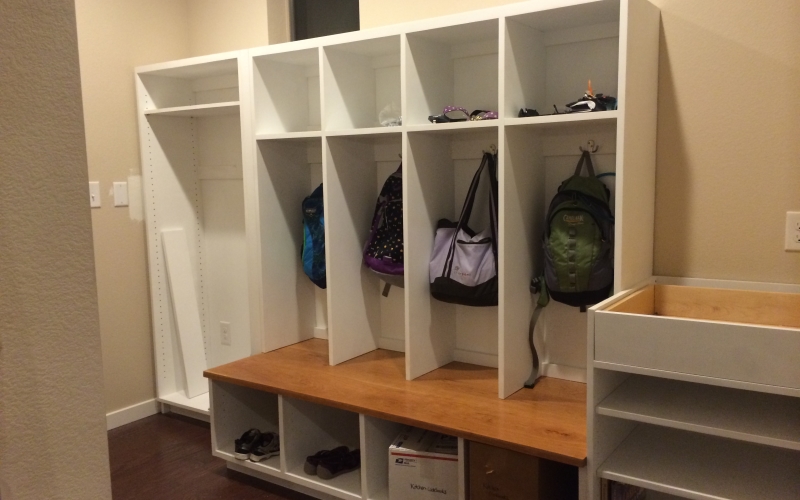 So moving is a lot of work. Way more than I remembered from the last time we did it almost 10 years ago. I am pretty sure we have more stuff. I'm also pretty sure we're secret hoarders. I mean … look at this: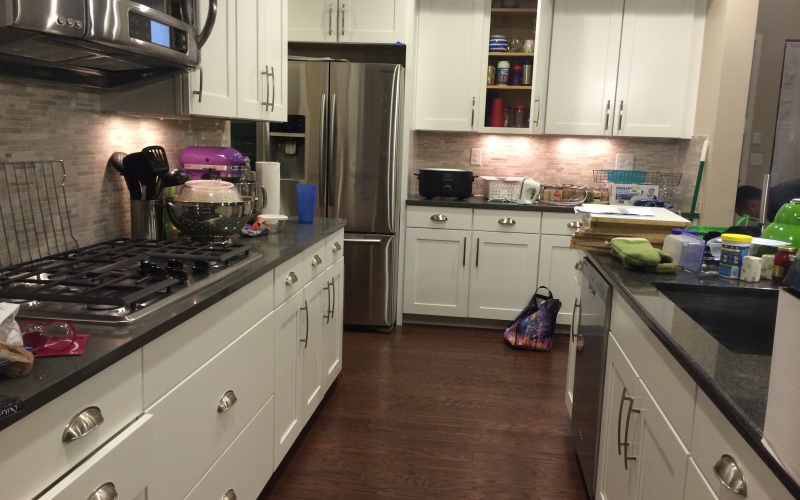 … crap everywhere! And that's not nearly the worst of it.
What have we been up to?
Tuesday: We closed and did a bunch of stuff that night, including hanging window coverings. Unfortunately, two of the ones that shipped (we had about 1/3 arrive before we closed, the rest are on backorder) didn't fit right, so they should be back sometime this week.
Wednesday: We worked (at our day jobs) and our painter arrived to do the color for the bedrooms and powder room. I love every color we picked and will share soon. Matt and his buddies installed the mudroom cabinets. Kelly and I built pieces of the office furniture.
Thursday: We rented a Uhaul and loaded up almost all the stuff from my sister's garage and our friends' basement. Our painter painted ceilings, the granite guys came to take measurements for the mudroom, we had a washer/dryer, kitchen table and chairs and eventually the refrigerator delivered. We diligently unpacked like mad, trying to stay ahead (haha).
Friday: I met the movers at our storage unit, Matt met the other crew of movers at our rental house and we moved everything from those locations. See? Secret hoarders. In 6 hours they moved the big/bad stuff. Mostly furniture and power tools. We unpacked MORE. We got everyone's beds setup. We built Tabby's new desk. Loki peed on the floor and we discovered our brand new washer wouldn't work. At all.
Saturday: We unpacked. We assembled. We hung Ben's new fan. We spent hours harassing Sears about getting us a new washer, like NOW. We eventually had to call Lowes and order a new one through them. We unpacked. We went to Ikea to pick up a couple of things.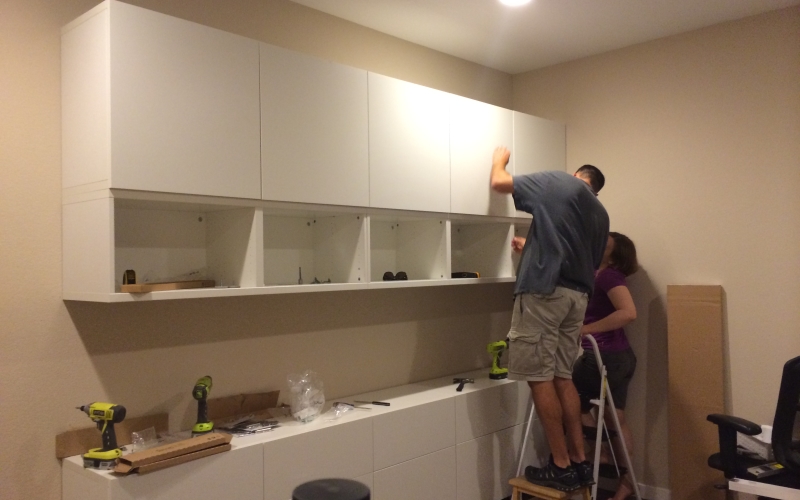 Sunday: We actually made breakfast (pancakes and bacon) in our new kitchen (after moving around a ton of stuff).  We went to the grocery store and Home Depot for various deficiencies. Our new new washer arrived. We did tons of laundry. We assembled more office furniture and installed it in the office. We made actual dinner. We went for a walk. We installed mudroom shelves and some hooks. It's not done, but it's looking good.
It was actually an odd pleasure to wake up this morning and go to work. I got to shower in my nice big shower. My car was right there waiting for me in the garage. The drive was about 10 minutes longer than the one from our rental house, but I will gladly take that so that Matt and the kids aren't being run ragged on their commutes.
We've got a ton to do, but we are making good progress and really enjoying feathering our nest. I'm constantly amazed by my husband and his ability to work out stuff (like hanging our cabinets) and just get it done. He's pretty brilliant. I've been impressed too at how the kids have pitched in and helped and how they've been happy to entertain themselves while we work. Life is good. And I really really appreciate it!