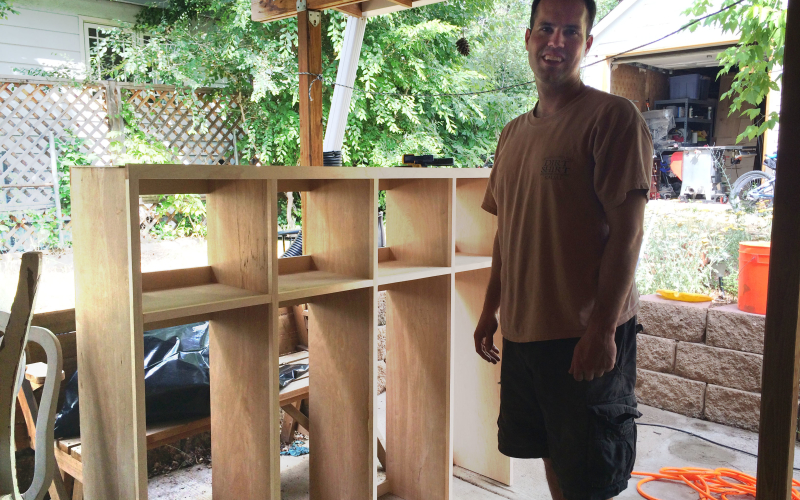 This guy has been working his tail off.
He's been in his shop (the teeny garage in the back yard of our rental house), at crazy hours, late on weeknights and quite a good percentage of our at-home weekends, working his magic. He's been turning my sketches into reality – mud room cabinets!
Our new house comes with an "owner entry," a 6'x8′ space (or thereabouts) that is where you enter from the breezeway between the garage and the house. In the original plans, it had a coat closet and some blank space. But I am not big on little closets like that – things get lost too easily in them – so I had our builder delete the closet (cost $50) and we made plans to get cabinets for the area.
Little did we know that the great mudroom cabinets we're seeing all over the internets, are not available in a mass-produced solution. That basically means that you can only get them custom and they are VERY VERY expensive. Like $6k – $12k just for our little wall of cabinets!
There were some options out there to cobble together this piece and that piece, but not only were the solutions still pretty expensive, but they didn't look all that great. And this room adjoins to both our main living space and powder room. So it has to be reasonably attractive. After much deliberating, we decided this was the best option. Luckily, Matt (mostly) enjoys building.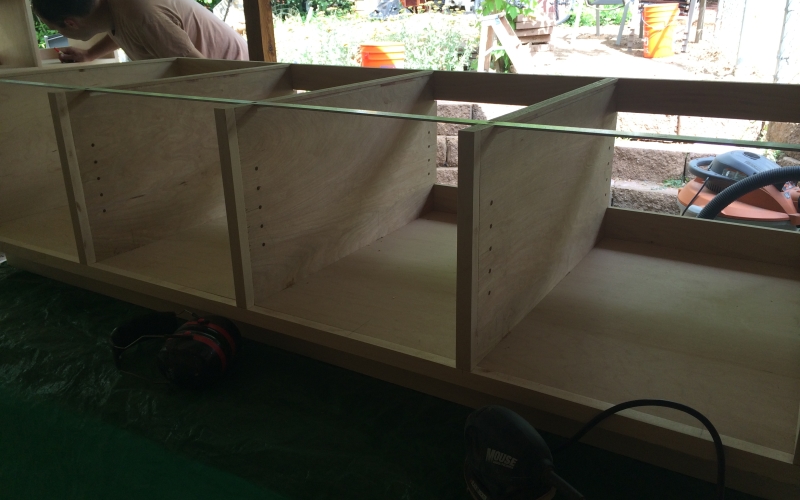 They came from the shop looking like this (and the one above) – raw wood, sanded down. These are just 2 of 4 cabinets Matt will eventually make. The above piece is a boot bench. It will have shelves in each cubby and will eventually be topped with cherry. The top is sitting in the shop waiting to be cut. The top piece (1st photo) is the "locker" portion of the cabinets where we will have hooks to hang the various bags we wield. I will likely be putting baskets up top for hats, gloves, etc. The "lockers" sit on top of the boot bench.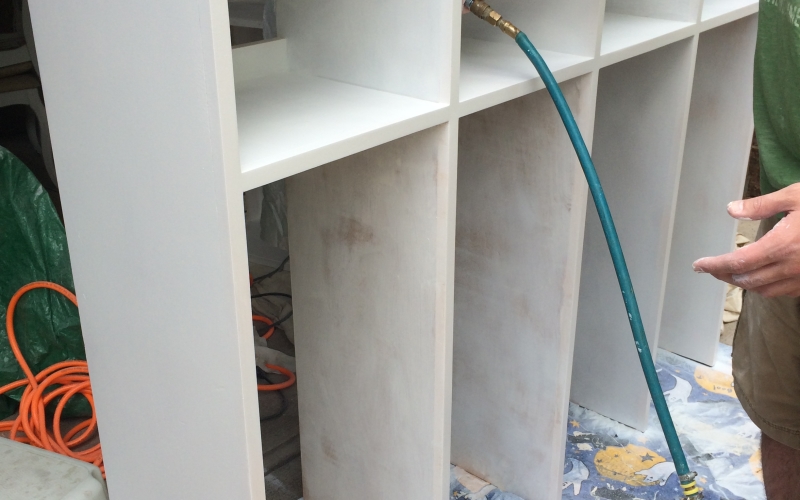 First we had to prime … then sand …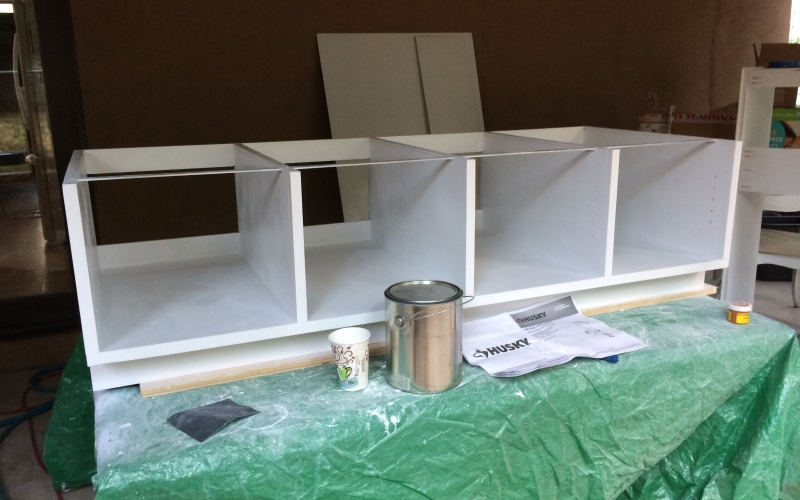 … then paint. My sister came to help us in exchange for some DIY help at her place and I was grateful for the extra hands because it was a huge job. The primer went on via brush and was sucked up by the new wood. I ran the orbital (big boy) sander while Kelly ran the little detail sander in the corners and tight spots.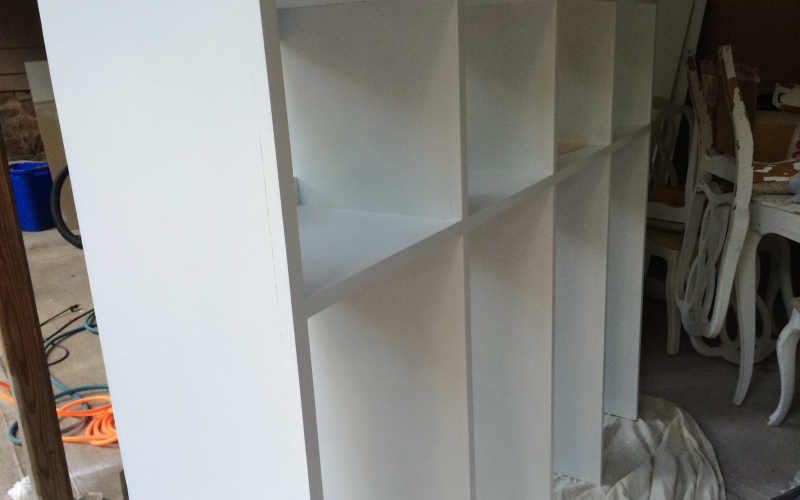 Matt worked the kinks out of spraying the paint for a good, smooth finish and they turned out really great.
Before we move, Matt will finish #3 of the 4 cabinets, the cabinet that will go to the right of the boot bench/lockers. That one is a counter with a drawer below the work surface and a bookcase below that. This will be the calendar/mail station on top and hold our cookbooks below. I have to get the finishing done on that one as well because right after we move, we are having the granite people out to put a top on it. We got a screaming deal on a little piece of leftover granite, just right for the space and they are going to measure, cut it to fit and install.
The last cabinet will be left of the locker/bootbench and is in flux. At first,we thought we'd put some shelves there – maybe open, maybe with doors – but a bunch of switches ended up going in there, which means we can't make the shelves as deep as we'd like. Now we're probably going to install a shallow, tall cabinet to hold the broom, mop, vacuum and other cleaning supplies. That will have to wait 'til after we move and get Matt's shop up and running again and that could take a while!!