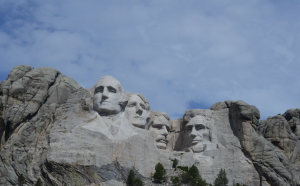 Well I had no idea that when we tentatively planned a trip to South Dakota for 4th of July weekend that my kids would be SO into it. We didn't know when we'd be closing on the house, so we booked a cheap campsite with the intention of backing out (and only incurring a $20 fee) if we needed to stay close to home. What I didn't know was that there was NO WAY my kids were missing out on seeing Mt Rushmore. Seriously!
Anyhow, so as July 3rd dawned, we piled in the car and towed the pop-up to South Dakota. It's 6 hours away and unfortunately, most of that 6 hours is a super desolate drive through Wyoming. Population 12. With 2 gas stations. And no where to eat.
But by the time we rolled into our campground near Hill City, SD, the landscape had changed and it was beautiful! The campsite was nice enough with electricity (so we could run AC!) and showers and a pool! But sites were close together and we really used it much more as a hotel room. We met up with the other families, two of which were staying in cabins and one of which was staying in a tent, all at the same campsite. We had a nice BBQ to get the festivities rolling and took a dip in the pool.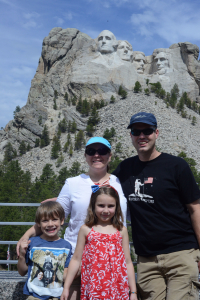 We got rolling the next morning and went straight to Mount Rushmore! It is a pretty amazing site, really, especially since the guy who dreamed it up did so with the sole purpose of luring tourists to SD. So basically, it's America's most famous tourist trap. I like the guy's style! We did just about all there was to do here, including having some very tasty ice cream at around 10:30 in the morning. What?! It was vacation!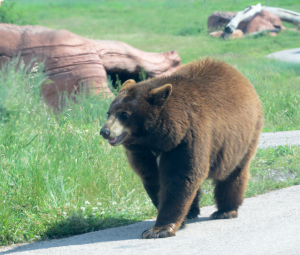 We hit a couple more sites that day. One was a bizarre touristy thing not really worth writing about, but the other was Bear Country. This is basically a drive-thru animal sanctuary, so for the first hour, we were driving through loads of boring animals doing nothing and basically sitting in traffic. Thankfully it got way better when we actually got to the bears!!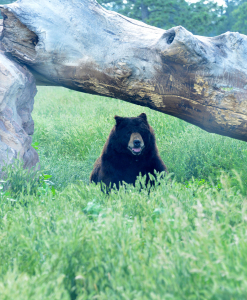 They were amazing – very close by and tons of them, all "Black Bears" but ranging in color from blonde to cinnamon to black. They had zero fear of people and seemed to be enjoying the heat about as much as us (nill). We saw one hanging out by the side of the road, chilling in a puddle. He was panting!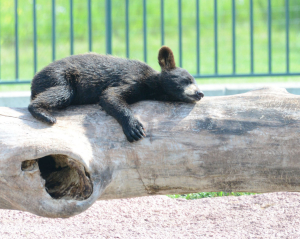 Cuter still was when we got to get out of the car and go into the zoo-like area they call "babyland." I bet you can guess what was there – yep! Baby bears!
Awwww!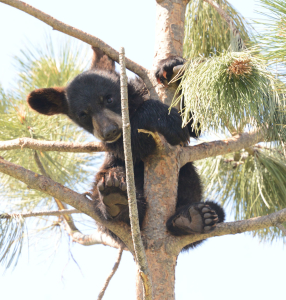 Awwww!  They were very playful and so fun to watch. If it hadn't been eleventy million degrees out, we could have watched them all day.
We called for pizza from Bear Country and headed back to the campground to wait for it to be delivered. There was also some pool time.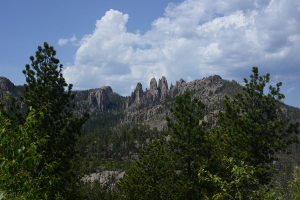 Saturday morning, we headed out to Mammoth Site, a dig site nearby. The kids got to dig up some bones in a simulated dig and we got to tour the site. The kids loved it, but the tour was pretty dry, unfortunately. The best part though was that we traveled there through Custer State Park and we got to go back the same way, but this time via Needles Highway, which is amazing.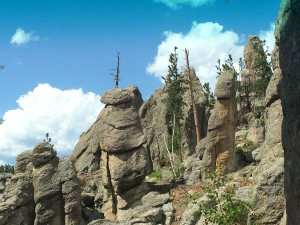 It is filled with amazing rock formations.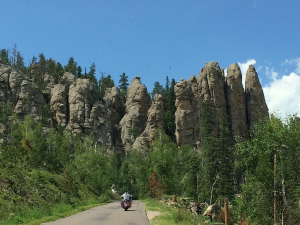 And the road is fun and windy, with narrow, frequently single lane tunnels.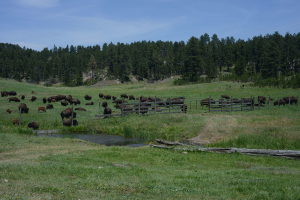 We got out a few times to check out the scenery, including a bison herd …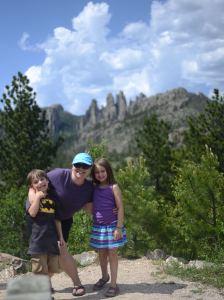 And just to take in the scenery.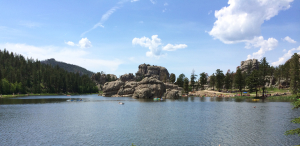 Our ultimate destination was Sylvan lake, where we got to go swimming! I seriously loved this because not only was it hot, but it was really neat to be swimming in a lake. We swam to the rock in the center and certain brave souls jumped off a cliff into very deep and safe water below.
We finally had to head out to our Chuckwagon dinner at Circle B ranch. It was a pretty fun experience with a shoot-out and some live music and pretty decent food. Ben may or may have not acquired a rubberband gun.
Finally on Sunday we packed up early and headed out. The drive home was happily uneventful, but still 6 hours long. Blah.