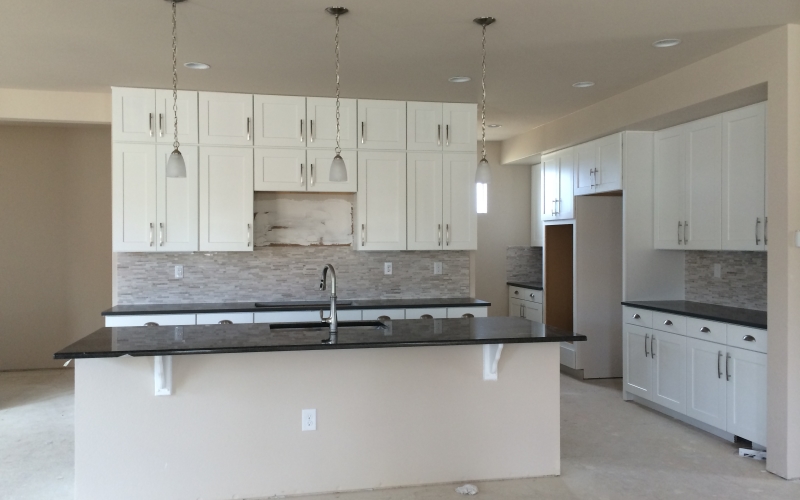 We are almost there! We close in 20 days!!
My close-quarters (799 sf, people!!) meltdowns have become more frequent. I spent a good portion of my afternoon on Saturday cleaning up the house – it hadn't looked so good in weeks!! Only to have it completely destroyed yesterday when we had a sewer issue and the house had to be dismantled to get to it. We lost Tabby's music book for two whole days when a bag of dog food got set on top of it. It was only on the floor because the 3M hooks I'd been using had failed … repeatedly.
So our shiny new house is my happy place. I am in love with this kitchen. I cannot wait to cook in there.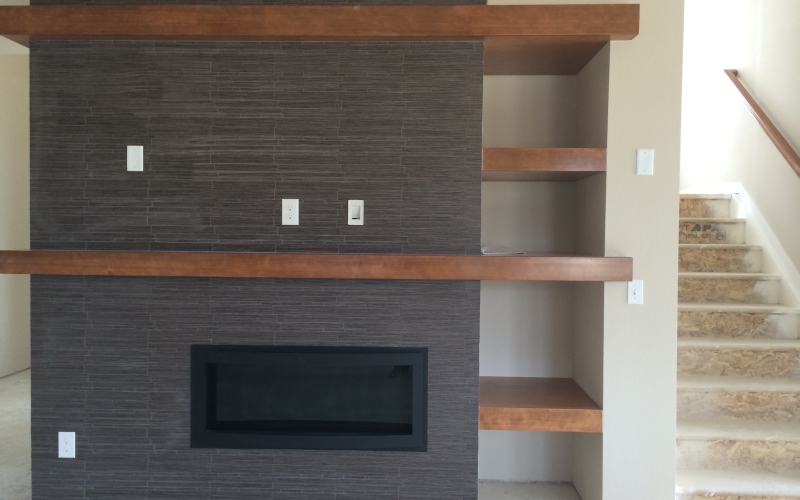 Our fireplace turned out great too. Of course someone has a giant TV to mess it all up with ….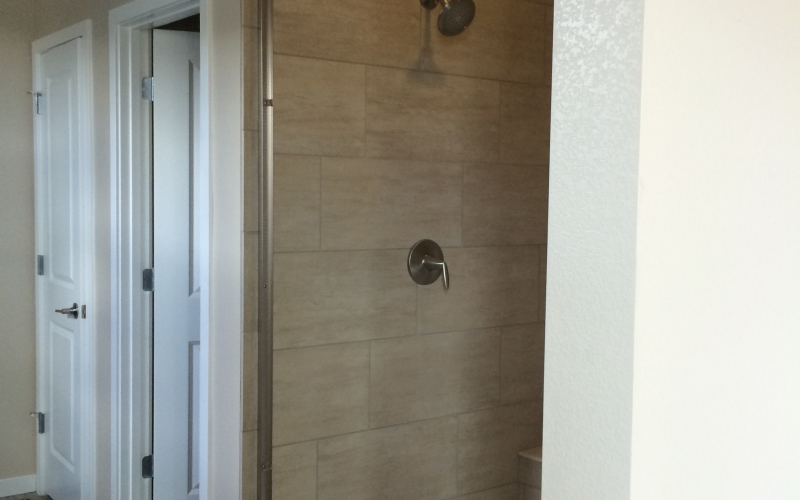 And this shower … oh boy. Can't wait to try that out!
It's big! and it has two heads! !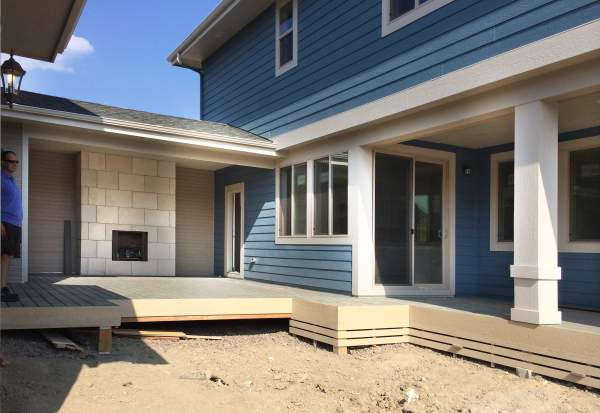 And our porch is getting really close. It's decked and has most of the trim.
Today we have our pre-flooring walk. Basically all that's left to do is our carpet and wood floor. But in practicality, it's more than that – drywall and paint fixes, some miscellaneous electrical work, and of course our landscaping. We have to take care of the backyard ourselves, but they put in fence and anything outside the fence they put in and the HOA maintains, including snow removal (yay!). It seems like a lot for 20 days, but the experienced crews and big equipment make the job much quicker.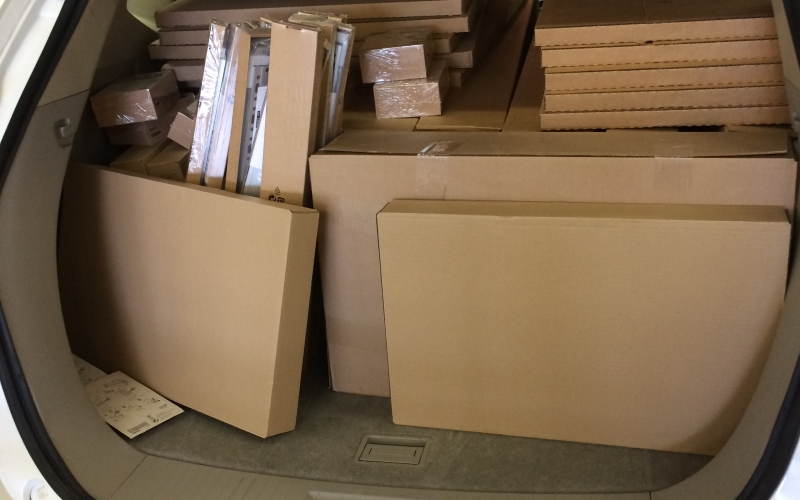 And we're getting ready to move in too. We filled my teeny rented Nissan Rogue (was in a little fender bender right before vacation and borrowed this while my car was being fixed) with flat-pack boxes from IKEA. Those are for the office.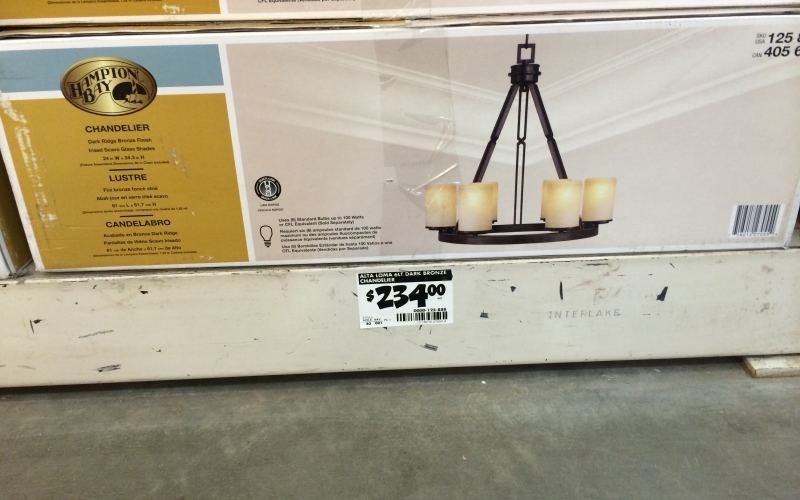 We've also been considering lighting options. Fans and a chandelier for the dining area don't come with the house and I think the pendants over the island are too small, so we'll replace those. I like this one from Home Depot a lot, but I'm not sure where we'll end up on that. We saved the kids' light fixtures from our old house …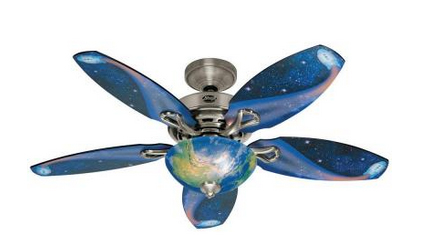 … but Ben saw a fan he was in LOVE WITH. It's a bit on the tacky side for my taste, but what the heck? He's only a little boy for a little while and he loves it and it really doesn't fight with his whole treehouse bed decor. So we will probably take his fan (it's a pretty classy mid-century modern affair) and put it in the playroom or our bedroom.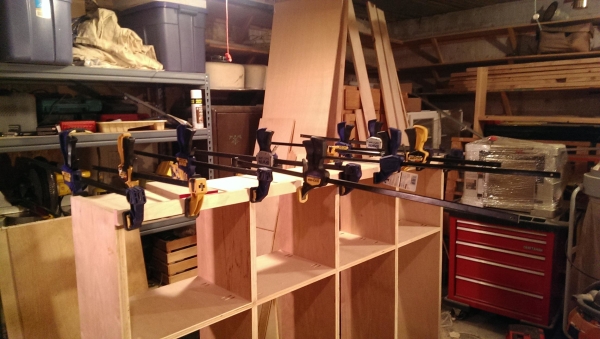 So the countdown is on! Matt is hard at work practically every evening making the cabinets for our mudroom in the new house. Estimates to have these done professionally ran over $6k, but Matt bought everything he needed to make them for less than $1k. Since they're more typical cabinet configurations, the savings might not be as pronounced for our laundry room and bonus room, but we're going to price things out to see what the best course is.
Once we close (on a Tuesday), we have a bit of work to do before we can move in (on a Friday) but we will be arriving to closing with our cars packed to the gills with everything we need to get to work on (IKEA furniture, for example) and enough provisions so that we can spend our first night in our new house. It's getting so exciting!!