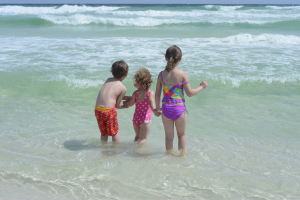 It's been a bit of a whirlwind since we got back from our Florida/New Olreans vacation. Fo sho.
But that's not entirely why I haven't written about it. A tragedy occurred while we were in Florida with our Nashville family – Matt's Dad, stepmom, sister, niece and brother. My sister-in-law's ex-husband and father of their beautiful daughter died suddenly a few days into our trip. It's a sort of an "Other than that, Mrs. Lincoln, how was the play?" kind of situation. The tragedy trumped everything and we were bound in place, trying to sort things out and cope. And yet there were three little people all but incapable of understanding and still very much at the beach wanting to have fun so we went on.
And I don't want to let go of the many nice memories of the trip we had. So here are a few of them.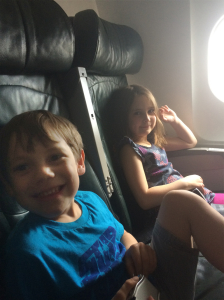 I am loving traveling with these two. Seriously.
I feel like all the hard work we put in with them when they were little – packing like we were going on safari and obsessing over details – has paid off.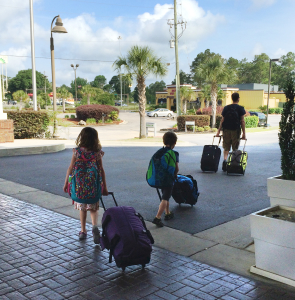 They are seriously great travelers. They each have a rolly suitcase and a backpack and they wield them with precision and just go with the flow. They love seeing new things and trying new things. They are so much fun to travel with these days. Even long travel days – we had a 2.5 hour flight to NOLA plus all the requisite airport waiting around followed by a 3 hour drive to our first night's destination in Pensacola – are pretty breezy. They have books and ipads but even better they have actual conversations with us and we listen to music and goof around and play iSpy and the ABC category game. They're awesome.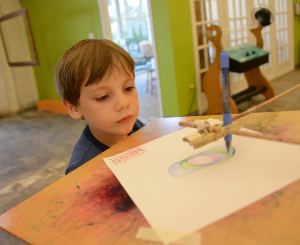 Before we went on to Destin, FL where we met up with our TN family, we checked out the awesome Pensacola Mess Hall which is a pretty unique little science museum. They have some of the typical stationary exhibits like this great Spirograph, but even better, you can pick up any of their many Mess Kits that each have all you need to do a cool science experiment. The kids each did 3 or 4.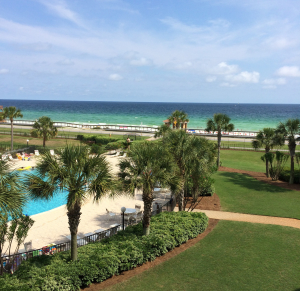 We were reunited with or TN family in Destin later that day. It was great to see everyone! Matt's dad and stepmom own a beautiful condo near the beach and got other units in the same building for us. This was our amazing view.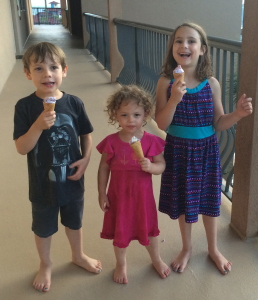 And it was so great to see our niece who we hadn't seen since September – she's grown so much and is such a fun, sweet kid! Her cousins ADORED HER.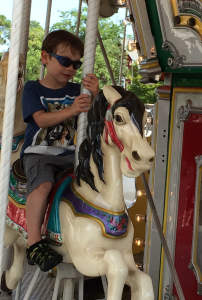 There was pretty much endless fun to be had – the beach of course, but also the pool! Go carts! A tree house! A carousel! A zip-line! A ropes course!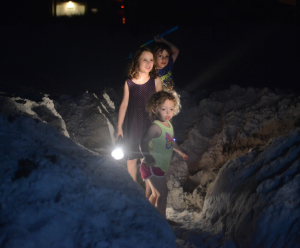 We even got out to the beach a couple of nights to hunt for crabs. We never did find any … there was a hurricane in TX (or was it Mexico?) that we think many have been wreaking havoc with our surf in FL.
Matt and I also got some great running time in together, compliments of Grammy Sherrie who was loving hanging with her out-of-state grands.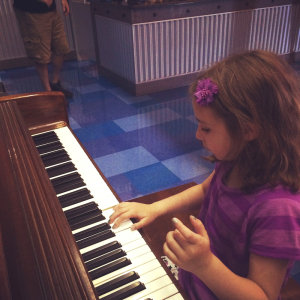 The slow pace was really nice for our crazy family. Tabby and I made time a couple times each day to practice piano (I borrowed *ahem* a keyboard from T@rget for our trip).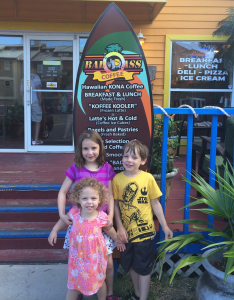 And we got to do fun leisurely walks to breakfast and try new smoothie recipes and paint our toenails.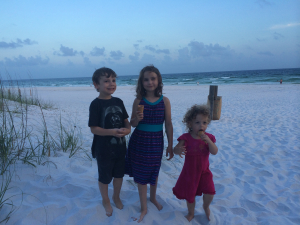 Best of all, we really enjoyed being with lovely family that we hardly ever get to see.
Even under the circumstances, that was great.