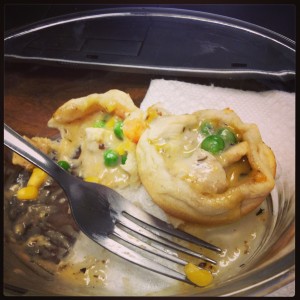 Right now, with life the way it is, I love any recipes that fit the following criteria: 1) healthy 2) kids love 3) quick and 4) freezable!! So when I saw a recipe for "Chicken Pot Pie Cupcakes" I had to try it. And fast forward 3 or 4 months, I actually did! I had to make some swaps and sometime later, maybe, when life isn't quite as nuts, I'd love to swap the cream of soup for actual FOOD, but these are tasty and have veggies my kids are dying to eat, so not too shabby, even if it wouldn't pass muster with Michael Pollan.
Mini Chicken Pot Pies

2 cans of refrigerated biscuits – the ones I buy are 8 per package and somewhere around that mark should work
3 cups cooked chicken breast, diced (see my note below about cooking chicken breasts for use in recipes)
2.5 cups frozen mixed veggies
2 cans cream of mushroom soup or this delighful DIY times 2
1 cup 2% shredded cheddar
1 tsp dried basil
1 tsp dried thyme
onion powder
garlic powder
S&P
These are ridiculously easy to make. Heat the oven to 400.
Lightly oil (olive oil mister time!) the bottom of your muffin tins. Then take each biscuit from the can and split it in half so that you have two thinner hockey-pucks. Press each half biscuit into the sides and bottom of the muffin tins, making little pie crusts.
In another bowl, combine your chicken, soup (or alternative), veggies, cheddar, basil, thyme and onion powder and garlic powder to taste. Add salt if you need it (you probably don't, thanks, Campbells!) and pepper also to taste. Spoon some of the mixture into each crust. I easily got 32 cupcakes out of my chicken mixture, but I suppose this could vary slightly. If you find you run out, you could add some more veggies.
Bake for 10-15 minutes and enjoy! If you have chicken that's already cooked, you can have this in the oven (at least one tray) in 10 min or less. The leftovers are great for kiddo lunches, mommy and daddy lunches or freezing.
I got 32 of these out of the recipe. MyFitnessPal calculates them at around 125 calories apiece, a little heavy on the carbs, but otherwise quite healthy. Three is a very filling meal.
A word on cooking chicken: a lot of people encourage you to "poach" your chicken, basically cooking it in a shallow pan of water for 15 minutes. I find this to make chicken icky, oddly anemic looking and most importantly, flavorless. When I want cooked chicken for recipes (pizza, salads, pot pies), I dice it and then cook it with just a little olive oil and salt and pepper. I suppose it's a smidge less healthy for you, but it is way more flavorful and very quick. Do an entire family pack at once and you can use it over the course of a week or freeze for easy meals later.