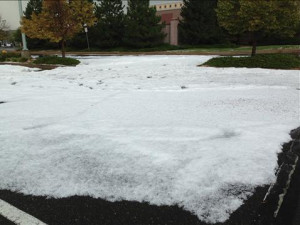 I think one of the best things about living in Denver is that rain always feels a little special. We just don't get much of it. Lately it's been 90s 90s 90s – for weeks and I know we were all sick of it. We had a little rain here and there, but it never stayed long or did much to the temps. But yesterday around 2p, a storm rolled into Denver and DUMPED. I drove home in 6″ of hail alongside the road! It wrecked havoc all over the city.
But of course by now, really even hours after, it's melted. The rest of the evening and into this morning has been lovely and rainy with a nice chill in the air. It feels like fall! It was fortuitous that I had a great fall dinner planned for yesterday evening: chicken pot pie cupcakes. I didn't make them as prescribed, opting to use half the biscuit dough and more vegetables – really I'm not sure we would have liked one with 2x the crust! – and they were wonderful. Thumbs up from the whole family. I will have to post soon.
Matt is out of town for a few days, so I'm on the merry-go-round. Kids start karate officially tonight. But for now, it's quiet in my office and I have a nice cup of tea and a pumpkin apple spice muffin.