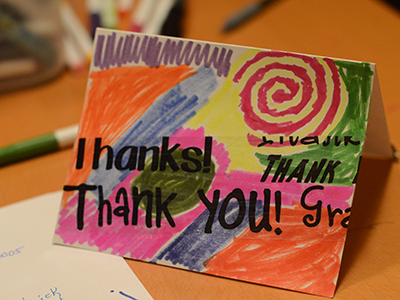 The other day I saw this awesome process for making packing-tape transfers from photo copies. I love anything like this – simple enough to do with kiddos AND all the supplies right at hand. Plus, we had a project to take on – thank you notes from Tabby's birthday party. Game on!
Supplies
packing tape – we used Target's Up and Up brand because it's what we had around and it worked wonderfully
photo copies or laser print-outs of whatever you want to transfer
scissors
a shallow basin of water
spray adhesive (we didn't need this, but depending on your tape, you might)
thank you note or other object to embellish
Method
We started out by coloring our thank-you notes. We take full pages of cardstock and cut them in half length-wise and then fold them. We've embellished these in 100 different ways for thank you notes and cards. I bought a box of envelopes just for these and it's been a great system. Anyhow, I told Tabby to color the fronts of the cards with bold blocks of color. We used markers, but I think colored pencil or crayon would be a nice effect.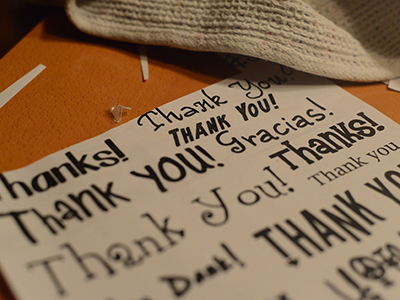 Next you place packing tape over the part of the copy that you want to use. I made crowded pages of different fonts of text reading "Thank You! Gracias! Vielen Dank! Thanks" etc. as well as photo-strip style pics of Tabby. Once you place the packing tape over it, you need to burnish it by rubbing a blunt something over the top … the handle of your scissors or the lid of a marker, whatever. This will bind the thermal ink to the tape.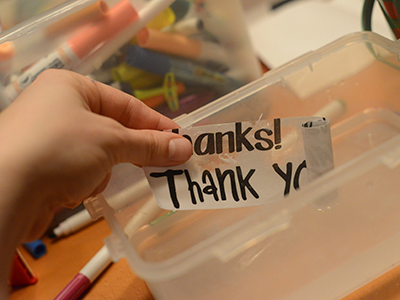 Next you cut out the strip that you want to use and put it in the water.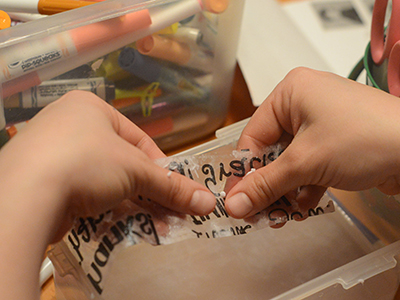 Then it's a process of removing the paper from the strip by rubbing it off. It's not hard, just a little tedious.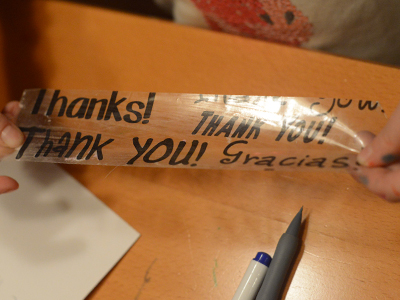 The more paper you get off, the better it looks so do it well! Then if there's enough sticky left, you can apply the tape right away and if not, you can apply the spray adhesive to it. You can trim it too, of course, to fit whatever you're doing.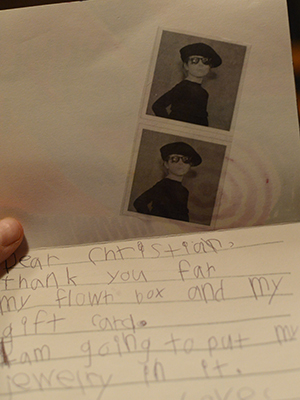 And … voila! Pretty custom thank you notes or whatever! Such a fun, easy process. Photos work awesome too. Why don't they teach this kind of stuff in art class??