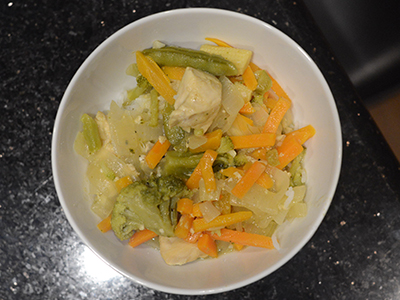 There is little I like better than coming home from work and having dinner waiting. And if it's healthy, delicious food that the whole family likes? Purrrrfect. This meal really hits the sweet spot for us. I adapted theoriginal recipe comes from this post and it has quickly become a family favorite, especially for Miss Tabby, the impetus of this whole project.
Crockpot Green Curry Chicken
Ingredients
2 lbs boneless skinless chicken breasts
2 medium onions roughly chopped
one head of garlic, minced
2 15 oz cans lite coconut milk
juice of 2 limes
4 oz green curry paste (we use Thai kitchen)
1/4 C brown sugar
2 t salt
1 t black pepper
2 T cornstarch
32 oz frozen stirfry vegetables
rice to serve if desired
Directions
This is a great spot to use the food processor if you're so inclined. I take both onions, quarter them and toss them in the food processor with the cloves of garlic and pulse a few times. That makes prep pretty darn quick. Otherwise, chop, mince like normal.
Place the chicken in the bottom of the crockpot and throw the salt and pepper on it. Mix it up a bit. Then mix up the coconut milk, lime juice, curry paste, and brown sugar and pour it over the chicken. Cook on high for 4-5 hours.
About 30 minutes before you want to eat, stir in the frozen veggies. Also, this is a great time to start your rice!  Then mix the cornstarch with about 2 T water and then mix that into the curry. Continue to cook until the vegetables are warmed and the sauce thickens.
Serve yummy veggies and meat over a little rice. Mmmmmm
This has a little kick to it, kind of on the back side, but it's not really spicy (i.e. both kids like it). You could definitely spice it up with some thai chiles if desired. In any case, it is