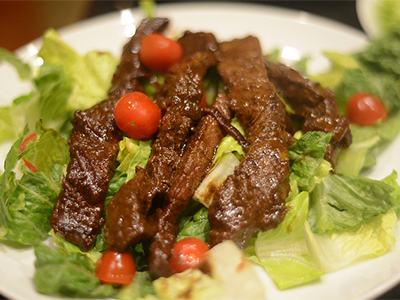 I haven't been great about posting recipes lately. It's because I've been busy, not because I haven't been cooking. We cook all the time. I think we have some sort of bizarre street cred at Ben's school because he is always bringing semi-"bizarre" lunches. But I have resolved to continue putting up the recipes that our family enjoys the most for one little reason. Tabby asked me to.
Well she didn't ask my specifically, but she said something to me a couple of weeks ago about teaching her how to cook and her being about to make food for herself when she leaves our house (she sometimes has strangely long-range planning for an almost-six-year-old). So I resolved to make sure I post the recipes that have caught our fancy and someday, I will make them into a book for the kids.
This recipe has been on our radar for a few months now. It comes to us from one of my favorite food bloggers, Iowa Girl Eats. It is changed VERY little because it is basically perfect as conceived, but I will adjust quantities and some instructions to reflect how we make it.
Sizzling Asian Steak Salad
Serves 4
Ingredients:
For the steak marinade:
1/4 C extra virgin olive oil
1/4 C  low-sodium soy sauce
2 T mirin (sweet Japanese cooking wine)
1 heaping T brown sugar
4 cloves garlic
24 oz strip steak, cut into bite-sized pieces
For the salad dressing:
1/4 C extra virgin olive oil
1/4 C low-sodium soy sauce
3 T honey
2 T lime juice
4 cloves garlic
2 teaspoons fresh ginger
For the salad:
1 small red onion, quartered and thinly sliced
12-16 cups baby spinach (or other lettuce)
1 pint grape or cherry tomatoes, halved
2 green onions, chopped
Directions:
This is a recipe made for the immersion blender! We stick all the ingredients for the marinade (except the steak, obviously) in a bowl and blend until smooth. It makes things super simple. But if you don't have an iBlender, you can just grate or mince the garlic. Then you place the steak in a bag or a shallow dish and pour the marinade over it. 30 minutes or up to 2 hrs to marinate, stir halfway through. To make the dressing, you can do the same routine as the marinade. Place all ingredients in a bowl and iBlend or you will need to grate or mince the garlic and ginger and then whisk together or shake in a jar.
Once the steak is done marinating, heat a fry pan to medium high and then add the marinaded steak and onions. Saute for about 3-4 min per side (flank gets tough if you over-cook, so don't!). Remove from pan and set aside. Combine salad greens, tomatoes and dressing (you will probably need less than 1/2 – just save the rest for next time) and toss until coated. Divide evenly amongst 4 plates, top with steak and green onions and ENJOY!