I think I might've mentioned that a couple of weeks ago, I read a book called Bringing Up Bebe, a comparison of French and American parenting. I really liked the book and enjoyed reading it and I was definitely intrigued by a passage in the book where a French woman was letting her 3 year old bake cupcakes … unassisted. And it hit me that Tabby can really do more than I let her. Granted, I let her do more in the kitchen than most other five-year-olds we know, but she is capable of more. It's just because I'm a bit afraid of the mess. I'm the mom that makes the kids do playdough outside because I have no interest in cleaning all of those little bits up.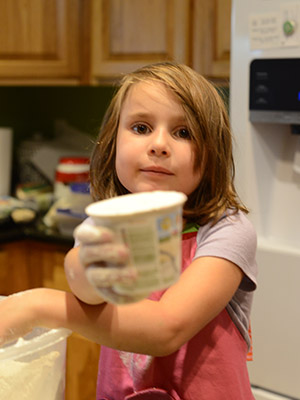 Anyhow, the book goes on to mention that most French children start out making yogurt cake when they're around three. It is a neat idea because you use yogurt as part of the cake and then measure most of the rest of the ingredients with the empty yogurt containers. So I endeavored to be a bit less crazy and let Tabby and Ben have at it tonight.
Yogurt Cake With Fresh Peaches
Ingredients
2 6oz containers whole plain yogurt
2 eggs
1 container oil (we used applesauce)
2 containers sugar
1 t vanilla
4 containers flour
1 1/2 t baking powder
2 containers fresh chopped peaches (1 container chocolate chips or 2 containers frozen berries can be subbed if desired)
powdered sugar to serve if desired
Heat oven to 375. Grease a 9″ round or loaf pan. In one bowl, combine yogurt, sugar, oil, vanilla, eggs. In a separate bowl, mix flour and baking powder thoroughly.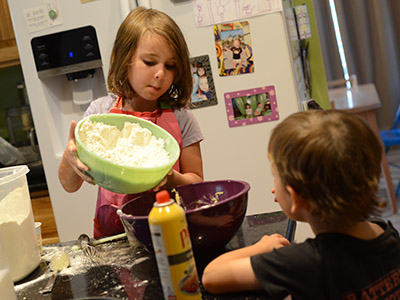 Pour the dry ingredients into the wet ingredients (it's important to hold your mouth just right) and stir until just combined. Fold in peaches.  Pour into prepared pan and bake 35-45 minutes or until a skewer inserted in the middle comes out clean.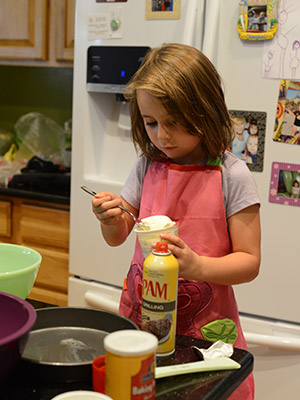 All things told, it went pretty well. There was some flour mess, but whatever. I even kept my mitts out of the mix pretty successfully. The kids did pretty much everything.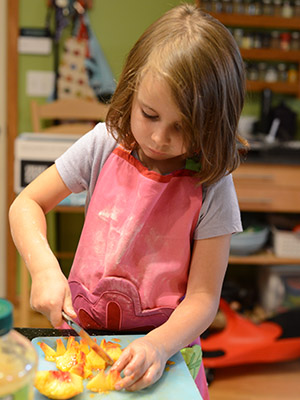 I did peel the peaches (you put them in boiling water for a minute), but Tabby chopped them. They are, of course, so soft she could do so with a kitchen knife.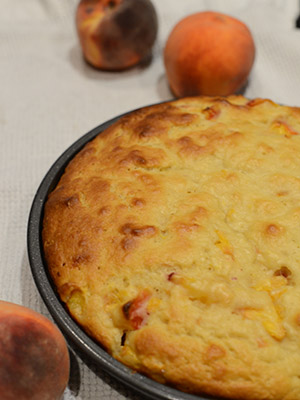 The resulting cake was very tasty and not too sweet. The kids loved it, all the more, I suspect, because they made it themselves.