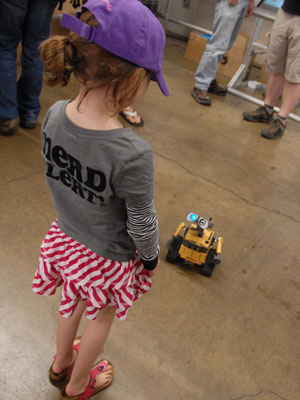 Before I get down to telling you all about Maker Faire, another reminder to enter The Giveaway to Uncommon Goods for $50 towards any of the great things they have to offer.
Now now now, on to Maker Faire. The fair organizers, Make Magazine, bill it as The Greatest Show and Tell on Earth. And that's a pretty good description. Everywhere you look you see AMAZING things that people have built.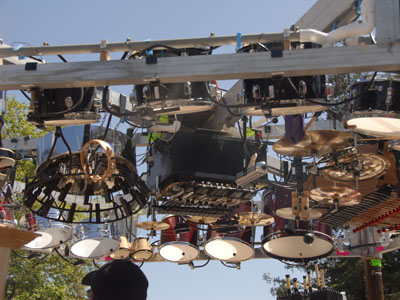 This incredible invention, The Ragtime Castaway Band, welcomed everyone to the fair (did I mention we were there at opening both mornings, waiting on the countdown? yea. we were) with its music. It is a robotic band contained in a hut. All the instruments you see above hang form the ceiling of the hut. There are a few other instruments surrounding the edges on the ground. They are all controlled robotically and they play some really fine music. Just in case you were wondering, the first tune of the morning was the Original Star Trek Theme. Very appropriately nerdy.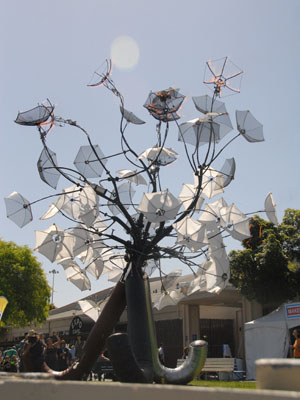 This amazing umbrella sculpture was another thing we loved. In addition to looking cool it shoots flames and makes noise. Who wouldn't like that??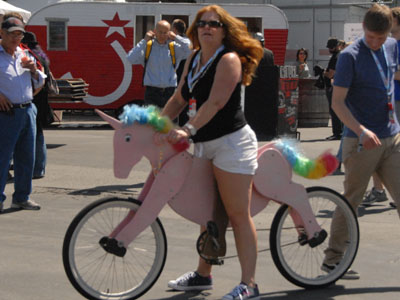 There were a load of modified bikes too. This unicorn bike was one of a pair owned by a couple. The man's was blue in case you're wondering.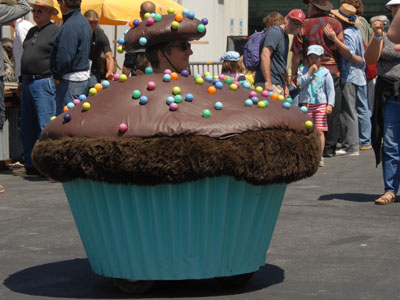 These cupcakes are also modified bikes though of course it's hard to tell when they're rolling around the fair. Ben was particularly fond of these.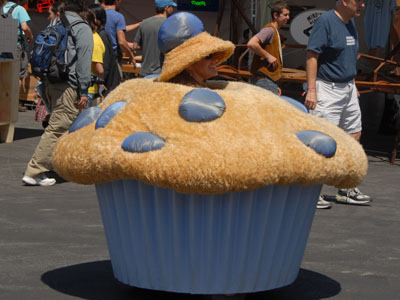 And here's the blueberry muffin. We got to talk to its owner/rider later on. She was great. They aren't a club, just a group of like-minded friends. I think it would be a total kick to build one of these … but what on earth would I do with it??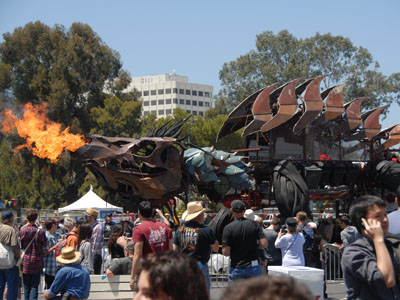 There were a number of metal sculptures all over the place. There was a really cool volcano too. We all love this one that shot flames. You could feel the heat from quite a distance away.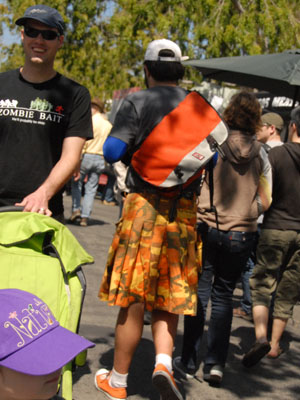 People watching was top notch at the event. Kilts were not unusual, like at all. I must have seen 10? more? over the course of the two days. But this guy wins because his kilt was orange camo AND he matched his cons to it.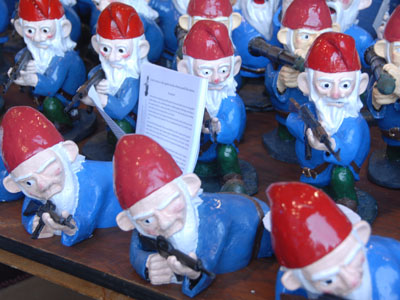 There were also a ton of vendors there … a few you'd probably heard of and tons you're probably never going to hear from again. These sniper garden gnomes were hilarious and also unfortunately $58. I thought about getting one as a cautionary tale for the neighborhood vandals, but that was a bit steep.
In addition to the fun purchases, Matt was there to look at 3D printers and Mills.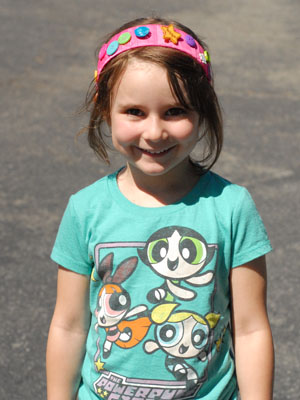 There were a few fun things to make here and there too. Tabby and Ben and I spent a good half hour at the MakerSpace booth making fun little LED throwies (LED + battery + magnet). Tabby and I also had a great time at the Craftsy booth making the cute headband she is modeling. There was a lot for her to see and at the end of the fair, she picked a Marshmallow Shooter kit to bring home as her souvenir. She and Matt also have plans to build a compressed air rocket together.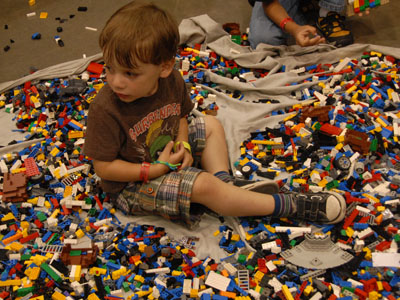 Things for Ben to do were a bit fewer and farther inbetween. He loved the Lego club's open lego play, but what he really got obsessed with were the Nano Bugs that the Geek Dad/Geek Mom booth had for the kids to play with. When Geek Mom/Geek Dad had some sets to give away, we were in the right place at the right time and they handed over a very nice set to Ben. He is LOVING the bugs.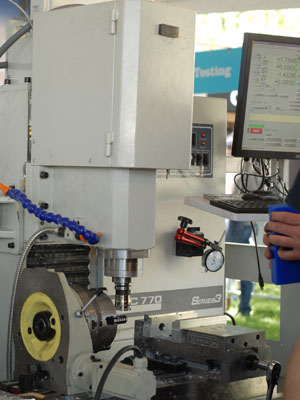 Matt and I probably had the most to do at the fair. Matt was on patrol for 3D printers and CNC Mills (I probably just butchered that lingo – I will let him correct me later) and had a great time chatting up the various makers of the different machines he's interested in. Everyone was represented from little companies just getting off the ground to some very big players with machines that cost as much as a car … or a house.
All in all, Maker Faire was an incredible experience and one I wouldn't mind repeating sometime in the near future. I really can't do it justice in just one blog post, but all of our photos are in our Flickr Album if you're interested.