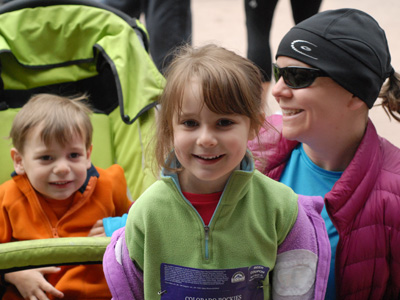 Today, I ran my slowest 5K ever, clocking in at right around 50 minutes. And I couldn't be more proud. Today marks Tabby's racing debut. She successfully completed the Rockie's Homerun for the Homeless 5K. It wasn't easy and we had to give lots of encouragement, water breaks and walk breaks along the way, but she started what she finished and completed all 3.1 miles under her own power. I'm so so proud of her!!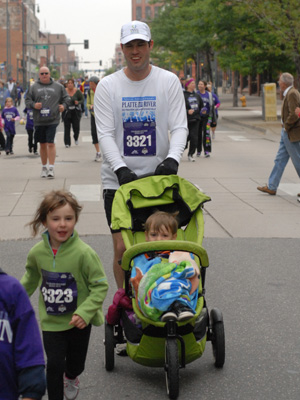 We got the whole family involved. Matt pushed Ben in the stroller and we all ran in a little pack with our friend and her son. It was a pretty hilly course and there was a fair bit of whining now and again, but she didn't show signs of fatigue during or after the race and it seems to me that it's mostly a mental fortitude thing right now – a lot to ask of a five year old, I know, but also a great skill to cultivate as she gets older. I'm sure it didn't help that it wasn't a fine sunny Colorado day like I ordered, but chilly and misty.
The race was really fun and really went by pretty fast. By the end Tabby was happy she completed it and chowed down on all the after-party offerings: bananas, granola bars, hotdogs and a rarely-allowed Sprite.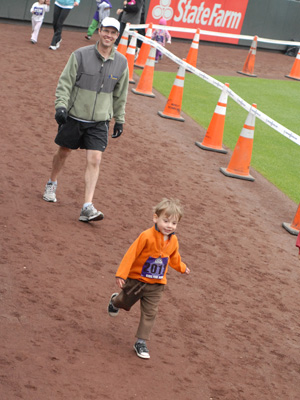 Ben got in on the action too. We signed him up for the kids fun-run (a 1K around the stadium) so he could have his very own bib like Tabby. When we asked him minutes before it started if he wanted to run, the answer was an enthusiastic YES!!! Matt took him over and he ran with the 5 and under crowd and had a great time.
When he came around the last curve, a bunch of little boys were up in the stands holding out their hand to him and he ran over to them, wanting to give them 5, but way too short to do so. So Matt picked him up and he was able to high-five the little boys – he told me all about it in great nonsensical detail later.
The race was a real winner and I'm so glad we did it. And we'll get to go see a Rockies game later this summer as part of our race fee!
After showers, we joined some friends for brunch (my own mom is in Boston – we celebrated last week) and had a nice calm and quiet rest of our day. Hope you and all of yours had a wonderful Mothers' Day!