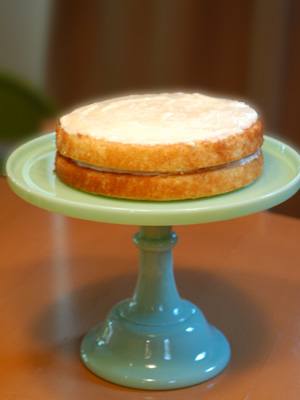 Matt's birthday always seems to get lost in the shuffle. It's not because he's not incredibly important to me and the kids, but because things are always going on, it seems. Graduations, Mother's Day, etc. He also doesn't like to make a big deal about birthdays and generally buys himself whatever he wants during the year and so he's a pretty hard guy to find a present for.
But I always like to do SOMETHING to mark the day, even if it ends up just being a promise to spend time together in a couple of days. This year, we had a nice steak dinner planned and I thought he might like a birthday cake for dessert. Matt is very big into lemon desserts, so I found a recipe I'd pinned a while back called lemonade cake. It was lemony, light and sounded fairly doable for a weeknight. It's also a cooking light recipe, coming in at 322 calories for 1 of 16 slices.
I grabbed the couple ingredients I lacked (a lemon, some lemonade concentrate, cream cheese and buttermilk) on the way home for work and whipped it up in pretty good time. The hardest part was getting the butter, cream cheese and lemonade concentrate softened. My west-facing front porch in the afternoon was the perfect spot to leave everything for 5 minutes and they were quite well softened.
Lemonade Cake
adapted from Cooking Light
cake:
1 1/3 C sugar
6 T butter, softened
1 T grated lemon rind
3 T thawed lemonade concentrate
2 t vanilla extract
2 eggs
2 egg whites
2 C all-purpose flour
1 t baking powder
1/2 t salt
1/2 t baking soda
1 1/4 C fat-free buttermilk
Cooking spray
frosting:
2 T butter, softened
2 t grated lemon rind
2 t thawed lemonade concentrate
1/2 t vanilla extract
8 oz low fat cream cheese
3 1/2 C powdered sugar
To make the cake: Heat oven to 350°. Pam two 9-inch round cake pans. In the bowl of a stand mixer, place sugar, butter, lemon rind, lemonade concentrate and vanilla. Beat at medium speed until well blended (about 5 minutes). Add eggs and egg whites, 1 at a time, beating well after each. Combine flour, baking powder, salt, and baking soda; stir well with a whisk. Add flour mixture and buttermilk alternately to sugar mixture and beat well after each addition.
Divide batter between prepared pans and sharply tap pans once on counter to remove air bubbles. Bake for 20 minutes or until wooden pick inserted in center comes out clean. Cool in pans 10 minutes on a wire rack; remove from pans. Cool completely on wire rack.
To prepare frosting, place 2 T butter, lemon rind, lemonade concentrate, vanilla extract and cream cheese in a large bowl; beat with a mixer at high speed until fluffy. Add powdered sugar, up to 3 1/2 C until desired sweetness and beat at low speed just until blended. Chill 1 hour. Frost cake as desired and serve immediately. Happy b'day to Matty!
Check out all the other great Pinteractive posts on Say it Don't Spray It!