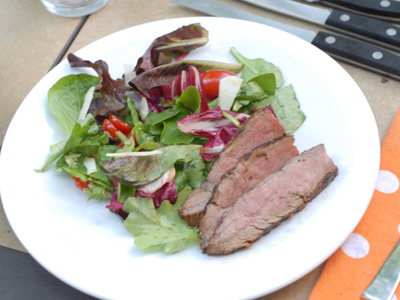 I've been pretty sluggish about May's cookbook, which is Bobby Flay's Boy Gets Grill. It has some tasty looking recipes in it, but it also leans more towards harder to find and more expensive ingredients, which I'm not against, of course, but it is harder to fit into my weekly cooking scheme. Flank steak, though, is always a good affordable treat and this recipe did NOT disappoint. The only hard part about it is that you will have to plan ahead since it takes 4-8 hours to marinate. It's worth it though!
Balsamic Marinated Flank Steak with Spring Green Salad
adapted from Bobby Flay's Boy Gets Grill
1/2 C balsamic vinegar  + 2 T
3/4 C olive oil + 3 T
4 cloves garlic, chopped
2 T rosemary leaves, chopped
1 1/2  to 1 3/4 lb beef flank steak
Salt and pepper
6 C spring greens
1/2 lb cherry tomatoes, halved
1/4 red onion very thinly sliced
parmesan cheese to top
Whisk together the half cup vinegar, the 3/4 C oil, the garlic and rosemary in a large dish. Add the steak and turn to coat. Cover and let marinate in the refrigerator for at least 4 hours and up to 8 hours, turning every 2 hours or whenever you happen to think about it.
Heat your grill to high. While it's heating, prepare the salad. Whisk together the remaining 2 T vinegar and 3 T olive oil (I usually use much more balsamic than oil though – I like it better that way) and season with salt and pepper. Add the spring greens, tomatoes and onions and toss to coat. Top with shaved parmesan (vegetable peeler works great for shaving parmesan).
Remove the steak from the marinade and season with salt and pepper. Grill until lightly charred and kinda crusty, 4 to 5 minutes. Do not close the lid on your grill unless it is cold and/or windy. Turn steak over, reduce the heat to medium or move to a cooler part of the grill, and grill until medium-rare, 3 to 4 minutes more. If cooking a bigger steak, grill for an extra 1 to 2 minutes per side – take care  not to overcook!! Remove the steak to a cutting board and let rest for five minutes. Cut into half-inch thick slices against the grain of the meat. Serve meat alongside the salad.
The whole family loved this recipe, particularly our resident carnivore, Tabby. The salad was a nice light accompaniment.