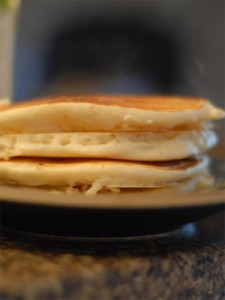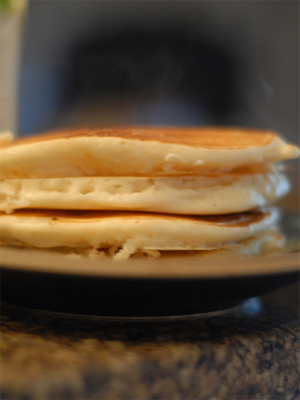 Since we're camping this weekend I thought I'd FINALLY share my favorite pancake recipe with you. This came up in a search last year when I was looking for camping recipes. We made it on our first camping trip in our pop-up and it was an instant hit. And we've been making it ever since. We've made it times other than camping as well, but I cannot imagine a camping trip without it and I'm pretty sure it will make an appearance each time we go.
When we go camping, I take the dry ingredients and measure them out and mix them up (and store them in a plastic container. I pre-measure the buttermilk into a jar and keep that in the cooler or camper fridge until ready to use. An egg and a little butter and some bananas is all that's left – and of course some syrup. These come out super light and fluffy and amazingly tasty!
One recipe should do well for a family of four if two of the four are light eaters or small children, but any more than that and you'll probably want a double recipe. Worst case scenario you can feed your fellow campers. I have also found it unnecessary to oil the griddle when I make these (presumably because of the butter in the batter) but if you find them sticking, obviously Pam it up.
5 Spot Pancakes (with Bananas)
adapted from Sunset Magazine
Ingredients
3/4 C all-purpose flour
6 T whole-wheat flour
1 1/4 t baking powder
3/4 t baking soda
1 1/2 t sugar
1/4 t salt
1 large egg
1 1/2 C buttermilk
About 3 T melted butter or margarine
2 ripe bananas, peeled and thinly sliced or other toppings of your choice (blueberries!)
In a bowl, mix all-purpose flour, whole-wheat flour, baking powder, baking soda, sugar, and salt. In another bowl, whisk to blend eggs, buttermilk, and 3 tablespoons butter. Add to dry ingredients and stir just until batter is evenly moistened.
Ladle batter, 1/4 cup at a time, onto a medium-hot (350°) griddle or 10- to 12-inch nonstick frying pan over medium heat. Put 3 to 5 banana slices onto each pancake and cook until edges of the cake look dry, 3 to 4 minutes. Turn with a wide spatula and cook until browned on the bottom, 3 or 4 minutes longer. Serve pancakes immediately!