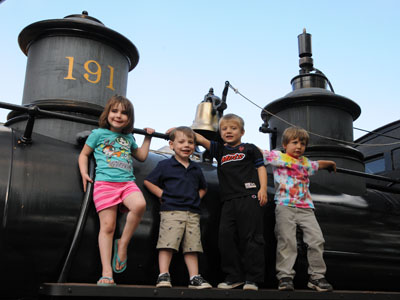 Ben's birthday falls on a Tuesday this year … a really busy Tuesday as it happens. So we wanted to do it up right on Saturday while we could. Ben  is big into trains right now so we made a visit to the Colorado Railroad Museum. I'd asked my parents to get Ben a membership for his b'day which they were game to do. The membership there is extra nice because it includes 7 people and either my folks or Matt and I can take the kids. My parents, sister, grandma, Matt's mom (in town for the weekend) joined us as well as our good friends and their boys.
Ben had a pretty good time.To say the least.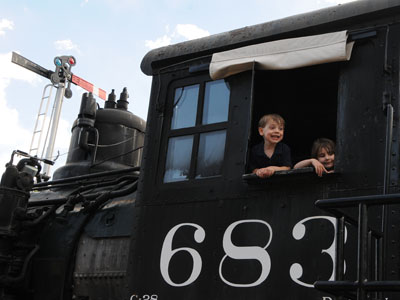 After the museum we all headed back to our house for a bbq. It was a bit of a mad scramble, but we got appetizers out and dinner on the table in a pretty big hurry. Burgers, dogs, baked beans, green beans, YUM. Everyone was a big help, scurrying around the house like ants getting things going.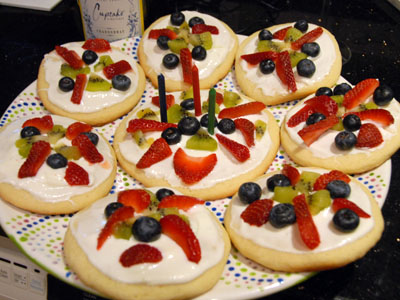 Mom did a great job decorating Ben's fruit pizzas with fruit.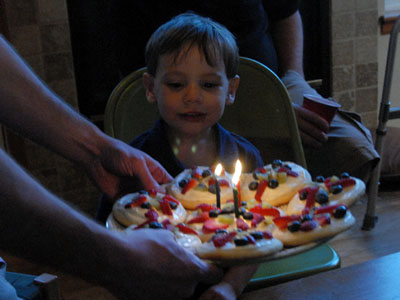 They were a pretty big hit with everyone from Ben to Loki (who stole one while the presents were being opened).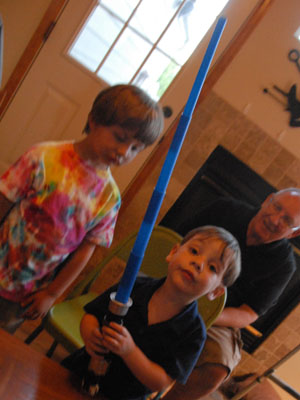 Ben got many great gifts, and quite a few of them blunt objects from the light sabre Tabby gave him (he will be happy to spar with her and her purple one) to the baseball bat Matt and I got for him. He got lovely books, Ice Age DVD, some clothes, cash, a gift card and a few toys. He was very spoiled.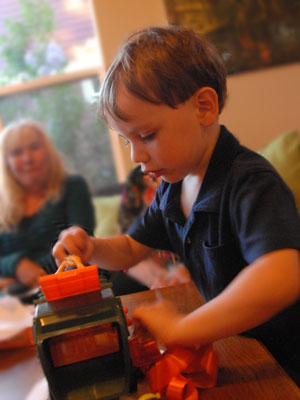 He had some good fun playing with his friends and his new toys.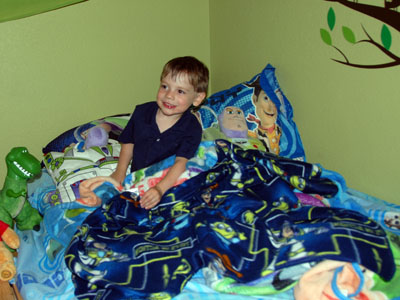 And he was super excited to con Daddy and Aunt Gaga into tricking out his big-boy bed with his brand new Buzz Bedding. It was a good good birthday celebration. Hopefully we still have a couple of tricks up our sleeves for the official day.