We had a nice weekend. It was short like all the rest. I have no idea what we did Friday. I know I passed out in the middle of the day for a couple of hours. There was a trip to Target in there somewhere. Friday night we had the family over. Downton Abbey was watched. Tasty things were eaten.
Saturday was the day we ran. And ran. We started out with an 11 mi run with some friends. It was a SLOG. Seriously, one of my hardest long runs in recent memory. All day I felt a little off and overheated and thirsty. Drank tons and tons of water. But there's no rest for the wicked. We took the kids to IKEA to get some storage furniture for Tabby's room. My sister ordered a bridesmaid dress. Matt ordered a router (the woodworking tool, not the computer hardware). We looked at land (nothing good). We had Middle Eastern food.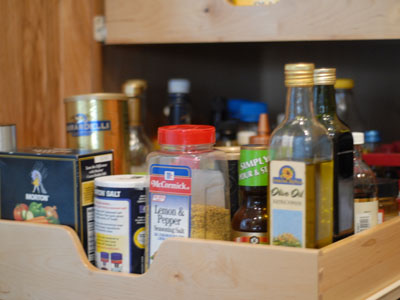 Sunday was a whole different kind of busy. We spent most of the day, aside from grocery shopping, at home building things. For starters, we installed five slide-out shelves for our pantry. What should have been an hour long project drug on three + hours. When we ordered these, an "expert" from the cabinet dealer came out and measured and got us ones that would be a perfect fit. Supposedly. But when we installed them and put weight on them, they came off the tracks in a back. They were fractionally too narrow. Of course the entire kitchen was covered with stuff from the pantry and we'd already removed the old shelves. Neither of us wanted to go back to square one so we ended up shimming the damn things with cardboard from the boxes they came in. They are still screwed into the cabinets, but there is 1/16h of an inch of cardboard on each side pushing them out just enough. Freaking crazy.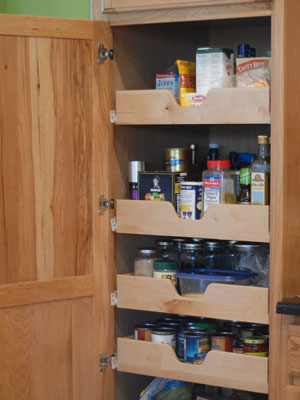 They were a pain and a half to get installed, but they work really nice. The pantry is much less of a deep dark hole than it used to be. Cheers.
For an encore, we assembled Tabby's new drawers and cabinets for her room. We ordered her a new bed a few weeks ago and we're getting ready for it to be delivered. Since she has drawers underneath her bed she needed new clothing storage as well. While we were hard at work on this, Tabby and Ben were hard at work playing "airplane." The game apparently involved placing everything they own on top of Ben's bed. So about 40 min before bath time, I gave them a job … put it all back. And if they could do it in 20 minutes, they would get to have a Squishy Baff. Matt's sister, Theresa, sent them Easter presents and amongst them was the Squishy Baff stuff that turns the baff into weird goo that the kids can bathe in. Another packet dissolves it back.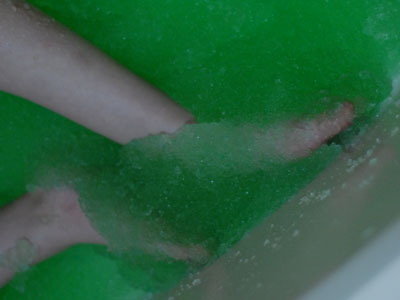 They got it done (more or less) and had their baff. Happy kiddos … Ben, who had bugged me most about trying it out, was a bit hesitant, but he eventually got into the spirit. We agreed it was like bathing in applesauce. A good finale to the weekend.